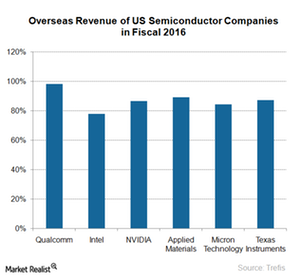 Semiconductor Industry and Intel Support Republican Tax Reform Plan
SIA supports the tax reform plan
So far in this series, we've seen that the Republicans' proposed tax reform framework works well for the US semiconductor industry (SMH). This industry depends on other countries for almost all supply chain activities, ranging from production to sales.
As this tax reform proposal would broadly benefit the US semiconductor industry, the SIA (Semiconductor Industry Association) supports the proposed plan.
Article continues below advertisement
In a press release, the SIA's president, John Neuffer, stated that the tax reform framework is a step closer to making the US corporate tax system more competitive. The reform includes the US semiconductor industry's priorities of a lower and globally competitive tax rate, a modern international tax system, and strong incentives for R&D.[1. research and development]
The SIA has supported tax reform since its early stages, and it backed the Better Way corporate tax reform blueprint released in March 2017. The blueprint proposed a 20% corporate tax rate and removal of the alternative minimum tax for corporations.
At that time, Neuffer stated that it is "an appropriate starting point" and would enable the US to become a preferred location for "semiconductor research, design, manufacturing, and export."
Intel supports the Republican tax reform plan
Intel's (INTC) chief executive officer, Brian Krzanich, showed support for tax reform in February 2017 after meeting with President Donald Trump at the White House. In a companywide email, Krzanich stated that Intel has been among the top two R&D spenders and top five exporters in the US, despite having a tax disadvantage relative to its foreign rivals.
Some of the corporate tax provisions in the Republican tax reform framework were included in the eight-point policy plan proposed by the SIA to the Trump administration and the House of Representatives in February 2017. The policy plan also included a point on the protection of intellectual property.
In January 2017, executives from group of large tech companies asked the Trump administration to introduce stronger policy changes. Alphabet's (GOOG) executive chairman, Eric Schmidt, and Qualcomm's (QCOM) executive chairman, Paul Jacobs, were among that executives that asked Trump to protect the US companies' leadership position from Chinese (MCHI) industrial policy.
These executives also asked the administration to make the US business environment more favorable for semiconductor investment. Trump responded to this request and called for an investigation into Chinese industrial policy. We'll look into this topic in the next part.