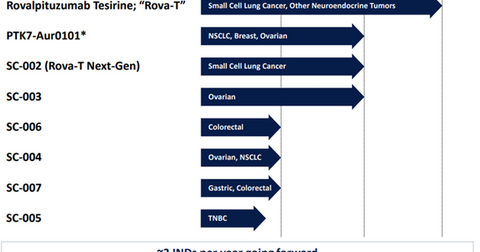 AbbVie's Rova-T and the Treatment of Small Cell Lung Cancer
By Margaret Patrick

Oct. 11 2020, Updated 11:13 a.m. ET
SCLC market opportunity
AbbVie (ABBV) expects to secure FDA (U.S. Food & Drug Administration) approval in the third line plus small cell lung cancer (or SCLC) indication in 2018. According to the American Cancer Society, 222,500 people in the United States are diagnosed with lung cancer every year. Of those, 29,000 are diagnosed with SCLC. The annual incidence of lung cancer in developed markets such as the United States, the European Union, and Japan is close to 540,000. Of those, 81,000 are diagnosed with SCLC. While the five-year median survival rate for lung cancer patient is 18%, it's only 3% for SCLC patients. That shows that the prognosis for SCLC is extremely poor. All major metrics such as overall response rate, progression-free survival, and overall survival have shown no significant improvement in the past 40 years in the SCLC indication.
Article continues below advertisement
In the third line plus SCLC indication, the five-year survival rate is only 6%. Additionally, there is no FDA-approved treatment for third line plus SCLC indication in the market. Topotecan is the only FDA-approved therapy indicated for second line SCLC patients. The absence of biomarker-based therapies in the SCLC segment may offer a strong opportunity for DLL3 (delta-like protein 3)-targeted Rova-T in future years.
AbbVie accounts for 0.68% of the iShares Core S&P 500 ETF (IVV).
The above diagram shows the research pipeline acquired by AbbVie from Stemcentrx.
TRINITY study
AbbVie has enrolled third line to seventh line SCLC patients in the TRINITY study. About 30% of the patients were undergoing fourth line or higher therapy. While final data analysis from this trial is anticipated in 2Q18, the full results will be reported in the ASCO (American Society of Clinical Oncology) in 2018. AbbVie expects to file an NDA (New Drug Application) for Rova-T in the third line plus SCLC indication in 2018, while the commercial launch of the drug is expected in late 2018 or early 2019.
A retrospective analysis of combination chemotherapies has shown only an 18% response rate in the highly chemo-sensitive patient population. Experts believe, however, that the response rate in this indication is less than 5% in most cases, further highlighting the growth opportunity for Rova-T. Rova-T may thus play a pivotal role in enabling AbbVie to compete effectively with other solid tumor players such as Pfizer (PFE), Merck & Co. (MRK), and Bristol-Myers Squibb (BMY).
In the next part, we'll look at the label expansion plans for Rova-T.