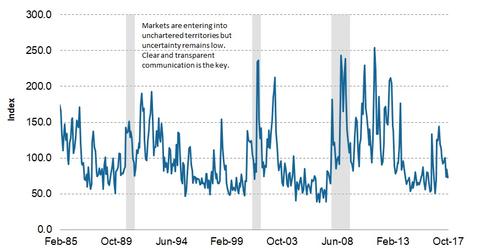 Raphael Bostic: Lessons from Unconventional Monetary Policy
By Ricky Cove

Updated
Lessons learned from unconventional monetary policy
Atlanta Federal Reserve president and CEO, Raphael Bostic, discussed lessons learned from unconventional monetary policy in a recent speech. He has explained the difference in market (SPY) reaction to both tightening programs announced by the US Fed. The first reaction to the tightening announcement was traumatic for financial markets (QQQ) as no one knew the consequences of the tapering announcement made by the Fed in August 2013. This time around, when the balance sheet normalization plan was initiated, there was no major reaction from markets (AGG). He explained the reason for this difference in reaction.
Article continues below advertisement
Clear communication is the key
Bostic stated that the reason for no major trauma during the recent bout of tightening from the Fed was clear communication. Bostic compared the two instances of tightening and highlighted the extreme caution that the Fed has taken in explicitly communicating its strategy before beginning its balance sheet normalization program. The Fed has given sufficient notice through its statements and member speeches to help markets (BND) prepare for its grand exit.
What is the new normal for the balance sheet?
In the final segment of his speech, Bostic tried to explain what's normal with respect to the balance sheet normalization. He said that the Fed hasn't yet decided what should be the new normal for the balance sheet but confirmed that the balance sheet would not be going back to the pre-crisis levels. The demand for cash has increased since the onset of the financial crisis and the level of reserves is dependent on this demand and the level of reserves held by the banking system (XLF).
Raphael Bostic has said that debate on the required reserves and the normalized size of the balance sheet is likely to continue and he hasn't made up his mind regarding the issue. He said that answer to this question will be the next major step towards normalizing monetary policy.