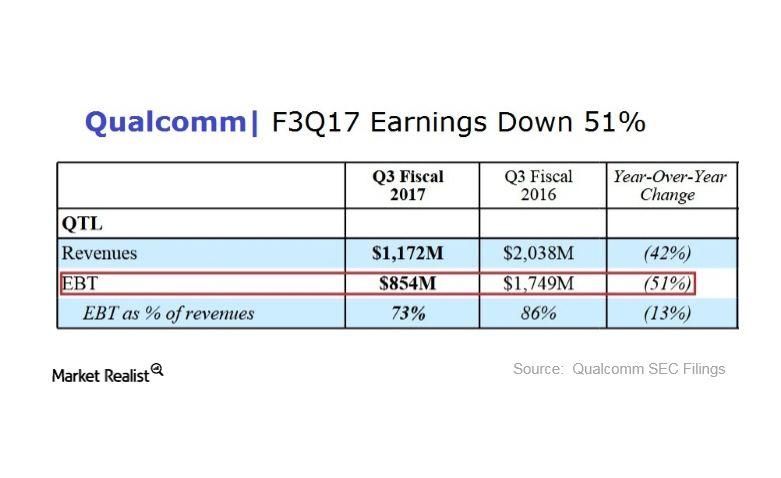 Qualcomm Compares and Contrasts Android and iPhone X Features
By Ruchi Gupta

Dec. 4 2020, Updated 10:43 a.m. ET
Qualcomm and iPhone X in the limelight
Just hours before Apple (AAPL) was set to unveil its new slate of smartphones, Qualcomm (QCOM) published a blog post on September 11, 2017, comparing the features on the rival smartphones. In particular, the blog post stated that the new features that Apple would highlight for its new iPhone release were already established features in Android phones.
Article continues below advertisement
The iPhone–Android rivalry
Google's (GOOGL) Android is Apple's biggest rival in the smartphone OS (operating system) market. BlackBerry (BBRY) abandoned its in-house smartphone OS for Android. The chart above shows how various smartphone OS types rank by market share.
Qualcomm listed OLED displays, rapid charging, and Bluetooth 5 as features that Android users have already utilized in their existing devices. The flagship iPhone X is the first smartphone from Apple to come with OLED screen. Because the new-to-Apple features in the iPhone X are already known to the Android community, it could be challenging for the company to attract Android customers to its iOS ecosystem.
Escalation of legal battle
Qualcomm and Apple are embroiled in a bitter legal battle, which has seen Apple instruct its contract manufacturers in Asia to withhold royalty payments to Qualcomm. As a result, Qualcomm's technology licensing (or QTL) earnings fell 51% year-over-year in fiscal 3Q17 (June quarter), as shown in the chart above. QTL is Qualcomm's most profitable segment.
It remains to be seen whether Qualcomm's actions could subdue the iPhone X's sales. According to Forbes, Apple is reported to be experiencing several technical challenges with the iPhone X.