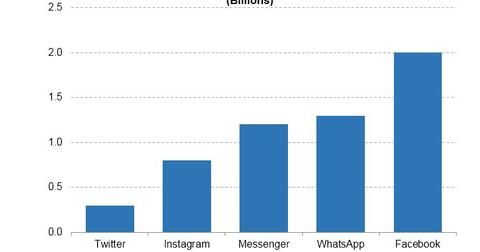 Putting Facebook's Data Center Investment into Perspective
By Neha Gupta

Oct. 23 2017, Updated 8:08 a.m. ET
Running data center on solar electricity
As CNN reported on October 5, Facebook (FB) is building a new data center in Virginia. The company is expected to invest $1.0 billion in the Virginia data center project. Facebook plans to spend $750 million on construction and $250 million on a renewable energy program to power the data center facility with solar electricity.
The data center project is expected to create thousands of construction jobs, and it would absorb 100 full-time employees when completed.
Article continues below advertisement
Facebook taking control WhatsApp data
Facebook's Virginia data center investment comes just a few months after it was reported that the company was withdrawing WhatsApp hosting from IBM's (IBM) cloud computing platform. According to WhatsApp's more recent update, it has 1.3 billion monthly active users. In contrast, Twitter (TWTR) reported 328 million monthly users at the end of 2Q17.
IBM cloud has hosted WhatsApp data for years, and now Facebook seems keen to end that relationship. Facebook rival Snap (SNAP) hosts its data on Google cloud (GOOGL). Facebook's Virginia data center project could be part of Facebook's preparation to receive WhatsApp data from the IBM cloud.
Data hosting transfer is not new at Facebook
Facebook tends to keep new digital properties it has acquired by working to bring their data in-house. At the time the company was acquiring WhatsApp in 2014, it was in the process of migrating Instagram's data from Amazon (AMZN) cloud, also known as AWS (Amazon Web Services), to its own data centers. It would be doing the same with WhatsApp as it consolidates its digital assets.