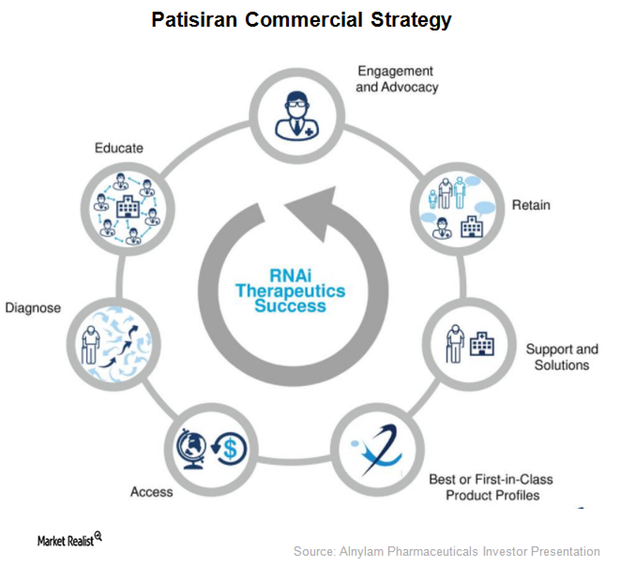 Patisiran Expected to Become Key Growth Driver for Alnylam
By Margaret Patrick

Oct. 31 2017, Updated 3:20 p.m. ET
Patisiran demand
Alnylam Pharmaceuticals' (ALNY) investigational drug Patisiran is expected to target 20,000 to 30,000 patients with hereditary ATTR (or hATTR) amyloidosis with polyneuropathy caused by amyloid deposition in nerves. A significant portion of these patients also demonstrate cardiomyopathy or amyloid deposition in the heart and are considered to be mixed phenotype patients. Since the neuropathy is also related to all types of nerves and can result in loss of sensory, motor, and autonomic function, hATTR amyloidosis is considered to be a rare yet debilitating and fatal genetic condition. The absence of marketed therapies coupled with the severity of the disease highlight the highly underserved nature of global demand present for Patisiran.
Alnylam Pharmaceuticals makes up about 3.2% of the SPDR S&P Biotech ETF's (XBI) total portfolio holdings.
Article continues below advertisement
The above diagram lists the various activities Alnylam Pharmaceuticals is engaged in as part of its preparations for the commercial launch of Patisiran. Patisiran is expected to enable Alnylam Pharmaceuticals to compete with other rare disease players such as Ionis Pharmaceuticals (IONS), Alexion Pharmaceuticals (ALXN), and United Therapeutics (UTHR) for investor dollars.
Market opportunity
Currently, there is no approved therapy available for halting disease progression or improving quality of life for patients suffering from hATTR amyloidosis in the US. Physicians have to opt for off-label usage of diflunisal for these patients.
Further, the European Commission (or EC) has approved Pfizer's Vyndaqel (tafamidis) only for stage one patients with symptomatic polyneuropathy associated with hATTR amyloidosis. The access to this drug is limited since major markets such as the United Kingdom don't offer reimbursement for this drug. There have also been multiple instances of patients witnessing disease progression despite using tafamidis.
Until recently, the orthotopic liver transplant (or OLT) was considered to be a treatment option for hATTR amyloidisis patients. However, based on outcome data, there has been a trend of increasingly opting for OLT only for younger patients with V30M mutation and no cardiac problems.
While Ionis Pharmaceuticals' investigational therapy, antisense oligonucleotide Inotersen, has demonstrated positive top-line results in phase three trials, it has also led to serious safety events such as thrombocytopenia and adverse renal impact on treated patients. To mitigate this risk, Ionis Pharmaceuticals has recommended weekly or fortnightly monitoring of blood platelet levels.
Thus, based on available safety and efficacy data, Alnylam Pharmaceuticals expects Patisiran to become preferred therapy for treatment of hATTR amyloidosis patients.
In the next article, we'll discuss commercial strategy and clinical data for Patisiran in greater detail.