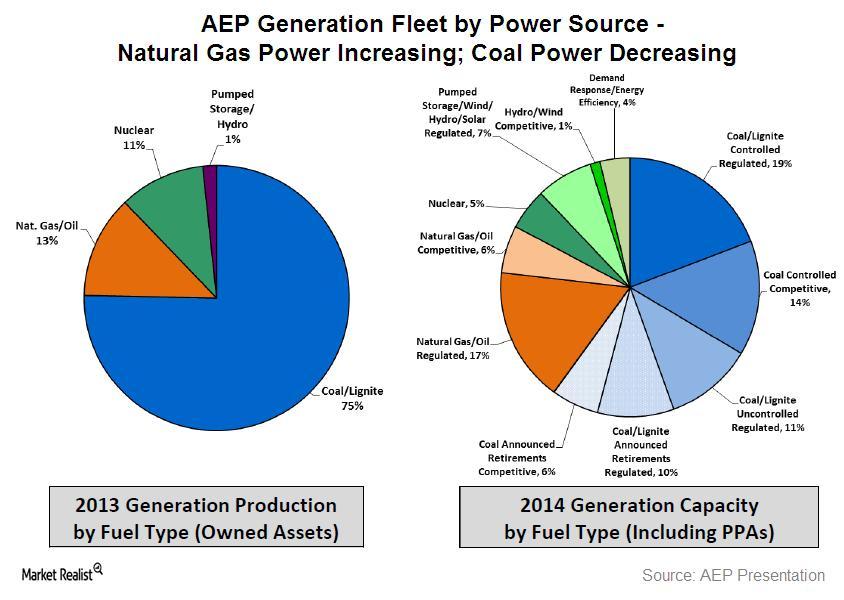 Overview: Proposal could shift electricity generators' asset-mix
By Alex Chamberlin

Oct. 11 2020, Updated 12:05 p.m. ET
New proposal could impact electricity generators' asset-mix
Major power companies have noted that they're in the process of shifting their portfolios away from coal towards natural gas. They commented on significant effort being taken towards decreasing the pollution from their existing coal assets. They also commented on the current dynamic between coal and natural gas prices, and how they're responding to it.
Article continues below advertisement
In the 2013 10-K, Duke Energy (DUK) expressed the following, "The EPA has proposed new federal regulations governing the management of coal combustion by-products, cooling water intake structures, wastewater, and carbon dioxide (CO2) emissions. These regulations, as well as new regulations or legislative actions resulting from the Dan River ash basis release, may require the Duke Energy Registrants to make additional capital expenditures and increase operating and maintenance costs." The previous graph shows that most of the new generation facilities that became operational in the past two years were natural gas-based, with only a couple based on coal for Duke Energy (DUK).
The company is also working towards reducing its reliance on coal-fired plants and increasing natural gas and renewable energy power sources, as shown in previous graph. Through 2023, it would have to budget a huge capex allocation for regulatory and environmental compliance. It has already taken steps to comply with the new greenhouse standards to be set by the U.S. Environmental Protection Agency (or EPA) or the federal authorities. In the 10-K of 2013, DUK wrote, "The Duke Energy Registrants do not anticipate any of the states in which they currently operate fossil-fueled electric generating units to implement requirements to reduce CO2 emissions absent a federal requirement to mandate reductions in GHG emissions. On June 25, 2013, the President of the United States issued a memorandum directing the EPA to propose CO2 emissions requirements for existing fossil-fuel electric generating units by June 1, 2014, and to finalize the guidelines for states to develop their own regulations for implementing the guidelines by June 1, 2015. The memorandum directed the EPA to require state to submit their implementation regulations for approval by June 30, 2016."
American Electric Power (AEP) has a balanced asset-mix
Article continues below advertisement
AEP's stand on the environment issue and the impact of any new rule on its power generating capability appears to be on a solid footing. It has systematically reduced its dependence on coal as a source of power generation. In the conference call of 1Q14, Brian X. Tierney, the chief financial officer (or CFO) said, "in fact AEP is already 21% lower than 2005 levels and the present targets worth 17% by 2020. So the industry is already come along way and the particular AEP has, so I think as long as they give that geographic and state flexibility we should have an opportunity to respond in very incredible fashion."
CMS Energy Corporation (CMS) looks to retire coal generating assets
According to CMS, suspending 900 megawatts of coal unit operations by 2016 is already in progress, which would also lead to reduction of the workforce by 300. However, by 2016, it plans to add a gas combined cycle of 542 megawatts of electricity. This would lead to higher diversification of its capacity base. With coal as a source, the capacity base would be reduced to 21% in 2017 from 33% in 2013. The contribution of gas powered plants would increase to 35% in 2017 from 31% in 2013.
Article continues below advertisement
Thomas Webb, the CFO of CMS Energy said in the conference call of 1Q14, "We likely will need to build or secure over 2500 megawatts of capacity just to replace expiring PPAs and coal plant closures. We already have secured 540 megawatts with the acquisition of the combined cycle gas plant in Jackson. With conservative load growth estimates and the possibility of customers returning to bundled service, and need for secure capacity may be even larger. And we are confident that we can fill those needs."
The lower cost of natural gas relative to coal and the stricter regulations against using coal as input to power plans have resulted in natural gas gaining popularity among power companies such as Duke Energy (DUK), American Electric Power, (AEP) and CMS Energy (CMS). This is most relevant for U.S. producers weighted towards natural gas, such as Chesapeake Energy (CHK), Southwestern Energy (SWN), Devon Energy (DVN), and Range Resources (RRC) as well as holders of natural gas ETFs such as the United States Natural Gas Fund (UNG).