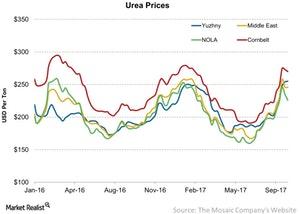 Nitrogen Supply and Demand Impacts Prices
By Adam Jones

Updated
Nitrogen
Nitrogen prices have been subdued for most of this year—compared to the levels observed a few years ago. The global market continues to experience excess capacity. However, the capacity is expected to be absorbed as the demand strengthens.
Article continues below advertisement
Urea prices
Urea, which is one of the most used nitrogen fertilizers globally, has seen an improvement in prices. In the US Cornbelt region, granular urea prices have increased as much as 29% YoY (year-over-year). In New Orleans, the prices were 18% higher YoY as of October 6. Similarly, granular prices in the Middle East were 35% higher YoY.
Supply side
In PotashCorp's (POT) September 2017 market overview, it said, "Beyond 2017, global capacity additions will begin to slow while demand is anticipated to grow at steady rates, resulting in improving fundamental in the nitrogen market." How soon after 2017 is still a question.
The strength in urea prices might have come from China's falling YoY export activity. PotashCorp estimates a range of 4 million–6 million tons of urea exports in 2017, which will be lower from 8.9 million tons. China's urea production is experiencing a slowdown due to the government pulling back favorable policies for producers. An increase in the cost of production led to the capacity closure.
Demand
Brazil has also remained a bright spot for nitrogen fertilizers—similar to potash fertilizers. Growth in the demand from Brazil will likely support nitrogen prices in the region. Unlike China and India, Brazil imports most of its nitrogen fertilizers. It leaves an open spot for nitrogen producers (XLB) like CF Industries (CF), Terra Nitrogen (TNH), PotashCorp (POT), and CVR Partners (UAN).
On the other hand, India only partially imports its nitrogen fertilizers. According to a local media outlet, India is looking to end its urea imports by 2022 by boosting production. It would mean higher capacity, which might be negative for prices.