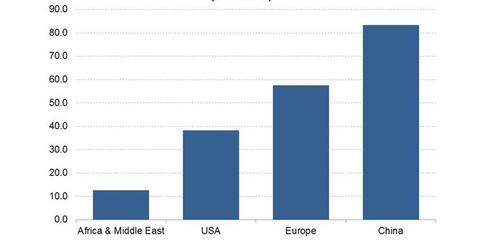 Other Tech Giants Pursuing Google's Renewable Dream
By Ruchi Gupta

Updated
Apple on target
Alphabet's (GOOGL) Google is not the only technology company aiming to run its core operations entirely on renewable electricity. Apple (AAPL), Microsoft (MSFT), Amazon (AMZN), and Facebook (FB) are at various stages of converting to renewable energy to power their operations.
Apple's target is to run its worldwide operations, as well as the operations of its suppliers, on 100% renewable energy. It is too close to its goal. Earlier this year, Apple revealed that 96% of its global energy comes from renewable sources.
Article continues below advertisement
Microsoft pursuing a 50% target by 2018
Facebook and Amazon are also collaborating with wind and solar power producers to power their renewable energy dreams. Microsoft is another large electricity consumer working on a transition to renewable energy. The company hopes to get 50% of its electricity supply from clean sources, such as hydroelectric, wind, and solar power, by 2018.
In 2014, the United Nations Environment Programme estimated that renewable energy investments in the United States (SPY) stood at $38.3 billion, compared with $83.3 billion in China.
Saving the planet and lowering risk profile
With growing concerns over climate change, and charged politics around the issue, Google, Apple, and other technology companies view the transition to renewable energy as important for their brands—they don't want to appear as contributing to environmental degradation.
Beyond brand safety, converting to renewable energy, whose supply prices tend to be more stable, can remove uncertainty for these companies. And who doesn't want to lower their risk profile?