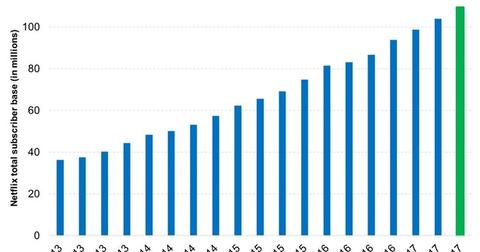 Netflix: Why It's Raising Its Debt $1.6 Billion
By Sanmit Amin

Updated
Netflix has a massive budget for original content for 2018
Streaming giant Netflix (NFLX) said on Monday, October 23, 2017, that it will riase its debt a whopping $1.6 billion. Netflix announced a stellar earnings report last week. The company saw robust growth in its subscriber base.
Netflix said it will earmark up to $8.0 billion to produce original programming in 2018, which is slightly higher than the $7.0 billion it initially estimated and the $6.0 billion it spent this year. The company also mentioned that 25.0% of what it spends on total programming was used to produce original content.
The move toward original programming comes as big studios, including Disney (DIS) and Fox (FOXA), are investing in their own streaming services. Disney will no longer license its movies to Netflix beginning in 2019.
Article continues below advertisement
Netflix and the Emmy Awards
Netflix announced recently that it will be raising its subscription fees, which could temper subscriber growth to an extent. Netflix believes it must keep producing quality content in order to keep subscribers from dropping its service. Netflix originals won 20 awards at this year's Emmy Awards, thanks to popular series such as The Crown and Stranger Things.
Another factor that could have affected the company's decision to raise its debt is rising interest rates. Interest rates are still low, but the Federal Reserve could hike rates, given the improving macroeconomic conditions.