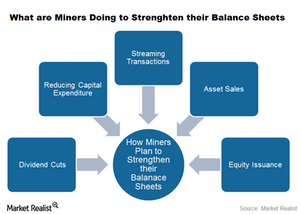 What Are Miners Doing to Strengthen Their Balance Sheets?
By Mohit Oberoi, CFA

Oct. 11 2020, Updated 12:17 p.m. ET
Balance sheets
The metals and mining industry is going through a terrible slowdown. This is exacerbated by the huge debt that most companies have on their balance sheets. Most of this debt is the result of acquisition activity and expansion projects undertaken by mining companies.
Companies were banking on China's metal appetite that seemed unending a couple of years ago. However, the dynamics have changed in the last few quarters. Now, as Chinese demand has slowed, mining companies are looking at every possible way to cut their debt levels. In this part of the series, we'll explore the various options that mining companies are considering to strengthen their balance sheets.
Article continues below advertisement
Dividend, capex cuts
Almost all miners—including BHP Billiton (BHP), Rio (RIO), and Glencore (GLNCY)—have either reduced their dividends (SDOG) or scrapped them all together. Capital expenditure programs have also fallen prey to the slowdown as the focus has shifted to strengthening their balance sheets. This would enable these miners to survive the prolonged slowdown rather than chasing future growth.
Some miners have also raised fresh equity to strengthen their balance sheets. Notably, last year, both Freeport-McMoRan (FCX) and Glencore raised cash by selling shares. On the other hand, Teck Resources (TCK) has totally ruled out equity issuance as an option to raise cash.
Glencore and Teck Resources have also raised cash through streaming transactions. In a typical streaming transaction, a third party provides upfront cash to the mining company and gets a share of future production.
The other preferred alternative has been to raise cash by selling assets. In the next part of this series, we'll see what different miners are doing on this front.