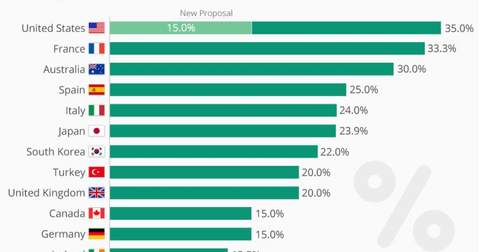 Why Microsoft and Peers May Prefer to Keep Cash Reserves Overseas
By Anne Shields

Updated
US tax deters organizations to repatriate cash reserves
Previously, we discussed Donald Trump's tax plan, which aims to bring US companies' overseas cash reserves back to the country. Companies in the technology sector, such as Apple (AAPL), Microsoft (MSFT), Facebook (FB), Alphabet (GOOG), and Amazon.com (AMZN) top the list of US companies with billions of dollars in cash reserves parked abroad.
As the above presentation by Statista shows, the United States' corporate taxation rate is among the world's highest, which explains technology companies' preference to keep cash reserves abroad. However, international companies receive a tax credit for the amount of tax they pay overseas.
Article continues below advertisement
Relationship between tax holiday and economic growth
The proposed tax holiday plan is expected to lower the current tax rate of 35% to 15%. As a result, companies' after-tax earnings would be positively affected. The plan also includes a major reform related to the repatriation of trillions of dollars held abroad by companies with global operations. These reserves are expected to be subjected to a one-time tax of 10%. The repatriated cash received through these tax reforms and plans is anticipated to boost investment in R&D (research and development), employment, and infrastructure. Therefore, through this tax plan Trump aims stimulate economic growth in the country as well.
If you're optimistic about the technology sector's prospects and seeking exposure to the space, you could consider the PowerShares QQQ ETF (QQQ), which invests ~54% of its holdings in the sector.