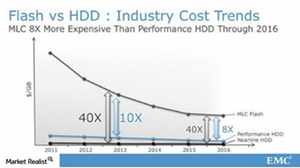 Micron Bets on Storage for Long-Term Growth
By Puja Tayal

Updated
Growth drivers
Micron Technology (MU) reported a slight decline in its fast-growing storage business as shipments were temporarily paused due to a small technical issue. Not much was lost during this hiatus, and the business is back on track.
During the company's fiscal 4Q17 earnings call, Micron's CEO, Sanjay Mehrotra, and its chief financial officer, Ernie Maddock, discussed the key factors that would drive growth in the company's storage business.
Article continues below advertisement
Increasing SSD attach rates
Rising NAND prices have slowed the adoption of SSD (solid-state drive) in the short term, but the long-term outlook looks positive. Maddock stated that client SSD sales are increasing as the PC market is replacing HDDs (hard disk drive) with SSDs. The PC SSD attach rate is currently around 35%. He expects this rate to increase to 50% in 2018 and 75% by 2020.
On the enterprise front, Mehrotra stated that a range of customers is adopting Micron's SSD solutions. Several enterprise server OEMs (original equipment manufacturers), cloud service providers, and Fortune 500 companies have qualified Micron's flagship SATA (serial advanced technology attachment) 5100 SSD.
The transition to SSD encouraged HDD giant Western Digital (WDC) to acquire SSD giant SanDisk in 2016.
Increasing average capacities
Not only are cloud and data center companies adopting SSD, but they are also increasing the average capacity per SSD. Mehrotra stated that average SSD capacities in enterprise and data center currently exceed 3 TB (terabytes), which he expects to triple to 9 TB by 2020.
These growth drivers of increasing SSD attach rates and average capacities are secular trends, which means they are here to stay for the long term. Mehrotra's comments are supported by some analysts.
Analysts bullish on Micron's storage business
At the 2017 HPC (High-Performance Computing) Advisory Council Stanford Conference, IBM (IBM) Research Almaden's Research Director Jeffrey Welser stated that data needs would grow at a faster rate than ever as more data is collected, stored, and analyzed. This would benefit memory players like Micron.
Credit Suisse analyst John Pitzer is bullish on Micron as data centers are increasingly adopting HBM (high-bandwidth memory) to save power and improve performance. With the advent of deep learning and artificial intelligence, HBM has become a new technology standard for server computing.
This trend would decommoditize memory, as HBM is a specialty memory that commands a higher price. Pitzer expects that this trend could drive Micron's earnings in the long term.
In the final part of this series, we'll look at Micron's Embedded business.