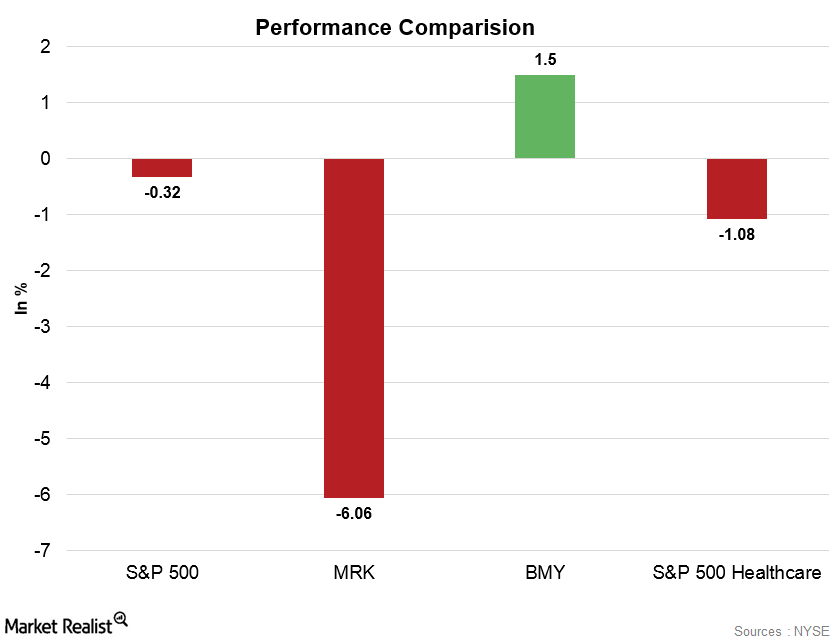 Why Did Merck & Company Fall on October 30?
Merck & Company   
Merck & Company (MRK), which is one of the largest pharmaceutical companies in the world, was the S&P 500's second-biggest loser on October 30. It opened lower on Monday and fell to the lowest levels traded in almost six months.
Article continues below advertisement
Reason for the fall
Merck & Company's price fell on Monday. Management announced that it's withdrawing an approval request in Europe for its cancer drug Keytruda. Keytuda is a drug that Merck & Company designed to treat patients with non-small cell lung cancer. In an attempt to test the possibility of Keytruda for other cancer treatments, Merck & Company conducted several studies. The studies failed and weighed on the stock price. As a result, several analysts downgraded the stock this week, which sent the stock much lower.
Analysts' downgrades
On October 30, Credit Suisse cut Merck & Company's target price from $73 to $70. The analysts at Morgan Stanley downgraded Merck & Company from "overweight" to "equal weight" and lowered its target price from $69 to $56. Analysts at Deutsche Bank lowered the target price to $62 from $66, while Barclays lowered the target price from $72 to $62.
On the other hand, Bristol-Myers Squibb's (BMY) stock price rose on Monday. Merck & Company's fall along with the approval of Opdivo pushed Bristol-Myers Squibb stock higher. On October 30, Merck & Company fell 6.1% and closed the day at $54.71. Bristol-Myers Squibb rose 1.5% and closed the day at $60.84. Both of the companies are part of the S&P 500 Healthcare sector, which fell 1.1% on Monday.
In the next part of this series, we'll discuss how Leggett & Platt (LEG) performed on October 30.