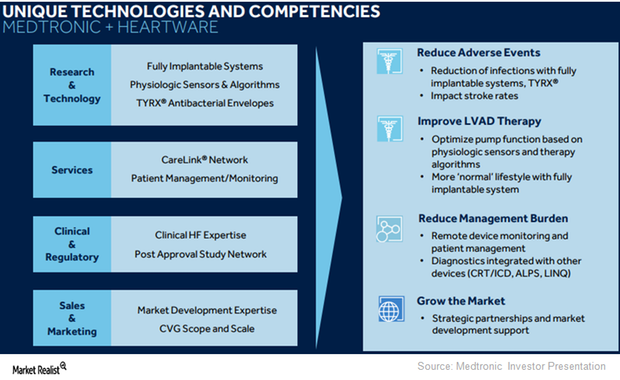 Medtronic Focused on Efficacy and Safety of LVAD Offerings
By Margaret Patrick

Oct. 2 2017, Published 12:20 p.m. ET
LVAD challenges
Medtronic (MDT) aims to leverage its expertise in implantable pump and electronics segments to further improve Heartware's LVAD (left ventricular assist device) product portfolio. In addition to improving survival rates in patients with weak hearts, LVAD therapies have also managed to significantly improve quality of life (or QoL) for these patients. According to J. Rogers, et al. in the 2009 Journal of the American College of Cardiology, use of LVADs in patients as a bridge to transplant or as a final therapy results in a 30 to 40 point improvement in lifestyle. That improvement is significantly high since patients who were prescribed bed rest or patients who were in ICUs (intensive care units) and constantly on inotrophic drugs could return to normal life due to these devices.
Article continues below advertisement
Despite high survival rates and significant improvement in QoL, patients are largely not opting for LVADs. According to the 2013 Annual INTERMACS Report, approximately 70.0% of patients witness complications such as infections, bleeding, thrombosis of device, strokes, and death within the first year of an implant.
If Medtronic resolves this concern, it may boost the company's stock as well as the stock of the Vanguard Health Care ETF (VHT). Medtronic makes up 2.9% of VHT's total portfolio holdings.
Strategy
The above diagram shows the key priorities and initiatives planned by Medtronic to bolster the growth of its LVAD segment. While LVADs have multiple benefits, they're complicated devices and at times come out of a patient's body. The place where the power driveline exits the body also proves to be an entry point for bacteria. To confront this problem, Medtronic plans to develop a fully implantable LVAD as well as provide antimicrobial TYRX envelopes. The company also plans to combine LVADs with physiologic sensors to keep track of the patient's activity status and adjust the cardiac output of the device accordingly.
To reduce associated healthcare costs, Medtronic plans to integrate these devices with its CareLink network. That should enable doctors to track patients remotely. The company also plans to deploy its Medtronic Care Management Services to reduce the burden of care from physicians and other healthcare providers. These initiatives are expected to enable Medtronic to compete effectively with other LVAD players such as Abbott Laboratories (ABT), Abiomed (ABMD), and Edwards Lifesciences (EW).
In the next part of this series, we'll look in greater detail at Medtronic's growth strategy in the LVAD space.