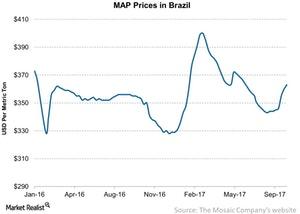 MAP Prices in Brazil Moved Higher Last Week
MAP prices
Article continues below advertisement
Weekly movements
Last week, MAP prices in Brazil rose yet again. They moved higher by 83 basis points week-over-week to $363 per metric ton from $360 per metric ton a week ago.
MAP prices in Brazil like the DAP (diammonium) prices we discussed in the earlier part of this series were also lackluster year-over-year. Last week, they rose by just 3% compared to levels observed in the corresponding week a year ago in 2016.
While MAP prices trend higher, the overall phosphate market appears to remain weak. Recent market updates haven't suggested a positive outlook for phosphate prices in the near term. However, we'll soon get more qualitative insight into the direction of the phosphate market as we head into earnings season.
Recent phosphate price movement, companies' earnings, and the outlook for phosphate and other fertilizers will likely determine fertilizer companies' momentum in the coming years.
Next, we will discuss the movements in potash prices.