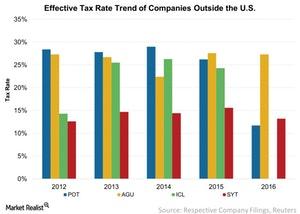 Understanding the Tax Rate of Agricultural Chemical Companies outside the US
By Adam Jones

Oct. 6 2017, Published 9:39 a.m. ET
The effect
Under Trump's new tax plan, the corporate tax rate would come down from 35% to 20% in the US. But not everyone believes that cutting the corporate tax rate from 35% to 20% would have a desirable effect. Reports published by sources such as Reuters have shown how such a tax cut would broaden the country's deficit even further.
However, the Trump administration believes that doing away with certain deductions and closing loopholes would offset those concerns.
Article continues below advertisement
Companies outside the US
In the above chart, you can see the effective tax rate of companies that have their tax bases outside the US. Among these companies, Syngenta (SYT), which is headquartered in Switzerland, had the lowest effective tax rate over the past five years, averaging below the Trump's 20% tax rate.
President Trump has also called for the tax rate to be more competitive in the US (MOO). Companies (XLB) in the past have even entered into mergers with companies outside the US, in countries with a lower tax base. Such deals are referred to as corporate inversions or tax inversions.
While Syngenta has a lower effective tax base, other companies in the chart have had an effective tax rate above 20% for the past five years—for the most part. Israel Chemicals (ICL) had an effective tax rate of 24% in 2015, while it did not have tax liability in 2016, given its negative pre-tax income.
Agrium (AGU) and PotashCorp (POT), which are headquartered in Canada, have also had effective tax rates above 20%, on average, over the past five years.
What's appropriate?
In a recent report published by Reuters, BlackRock CEO (chief executive officer) Larry Fink suggested that a corporate tax rate of 27% would be appropriate. Notably, the same report quoted Warren Buffet as stating: "I don't think any [US businesses] are non-competitive in the world because of the corporate tax rate."