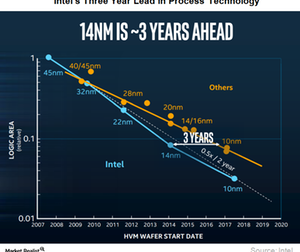 A Look at Intel's 3-Year Lead in Process Technology
By Puja Tayal

Updated
Intel in the foundry market
Intel (INTC) is one of the largest R&D (research and development) spenders in the semiconductor industry, spending $12.7 billion, or 22% of its revenue, on R&D in fiscal 2016. The company's R&D expenses are high because it not only invests in developing chip designs but also in manufacturing process technology. The company's semiconductor manufacturing process technology is among the most advanced in the world.
TSMC's (TSM) and Samsung's (SSNLF) foundries are catching up, reducing Intel's technological advantage. However, Intel claims to have the lead in process technology. It explained this claim at its second Technology and Manufacturing Day in China (FXI) in September 2017.
The first event took place in the United States in March 2017. While the first event was targeted at US investors, the second event targeted Chinese fabless companies, aiming to persuade them to consider Intel as their foundry alternative to TSMC and Samsung.
Article continues below advertisement
Intel's three-year lead in process technology
At the event in China, Intel president of manufacturing, operations, and sales Stacy Smith stated that the company had a three-year lead with its 14nm (nanometer) technology. It has been three years since the process was launched and it appears its technology lead has ended, as Samsung's and TSMC's 10nm nodes match Intel's 14nm node.
Intel's next technology lead is expected to come with its 10nm node. Stacy Smith stated that the 10nm technology marks a new generation and offers the highest transistor density and performance in the industry.
To build investors' and Chinese companies' confidence in its 10nm node, Intel showcased its 10nm Cannon Lake wafer for the first time at the China event. It also displayed an ARM test chip built on its 10nm wafer to highlight the fact that its August 2016 agreement with ARM to build ARM-based chips on its 10nm node is progressing.
Why is Intel stressing its 10nm progress? We'll answer this question in the next part.