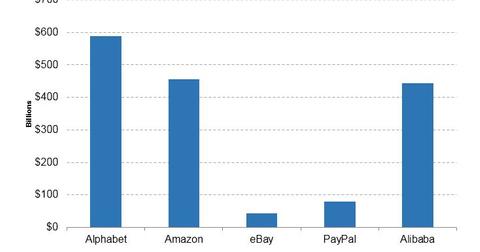 A Look at Alphabet's Valuations and Multiples
By Neha Gupta

Updated
Alphabet's enterprise value and related multiples
Alphabet's (GOOG) enterprise value (or EV) for 2017 is $587.9 billion. In comparison, Amazon (AMZN), eBay (EBAY), PayPal (PYPL), and Alibaba (BABA)—Alphabet's peer companies in the Internet sector—reported enterprise values of ~$455.0 billion, $42.4 billion, $80.3 billion, and $442.8 billion, respectively.
Alphabet's EV-to-adjusted-EBITDA[1. earnings before interest, tax, depreciation, and amortization] multiple for the trailing 12 months is 18.3x. That metric compares with its EV-to-EBITDA multiple of 13.5x expected in 2018. Alphabet's EBITDA margin for 2017 is 32.0%.
A further look at the company's EV ratios shows that its EV-to-sales multiple for the trailing 12 months is 5.9x, and its EV-to-sales multiple anticipated for 2018 is 4.6x.
Moreover, its trailing 12-month EV-to-cash flow multiple was 16.2x, compared with its trailing-12-month EV-to-free cash flow multiple of 23.3x.
Article continues below advertisement
EBITDA measures
Alphabet's 2017 EBITDA of $32.2 billion was down 16%. Wall Street is looking for EBITDA of $43.5 billion for the next period. Alphabet stock is trading at price-to-EBITDA multiple of 21.1x.
Alphabet's price multiple
Alphabet's book value per share works out to $214.30, while its estimated book value per share is $215.50. The stock is trading at a price-to-book value of 4.6x.
The company's price-to-sales multiple is 6.9x for 2017, and its estimated price-to-sales multiple for 2018 is 6.3x.
Article continues below advertisement
Market capitalization
Alphabet was the largest global Internet player in terms of market capitalization at ~$678.4 billion. Its peers' market caps follow:
Amazon: ~$498.8 billion

eBay: ~$38.4 billion

PayPal: ~$84.4 billion

Alibaba: ~$444.9 billion
Earnings and sales
Alphabet reported EPS (earnings per share) of $28.30 in 2017, while its earnings per share for 2018 are forecast to be $30.60.
The company's EPS for 2017 came on total sales of $99.3 billion, which grew 21% annually. Its sales for 2018 are expected to expand to $128.3 billion.