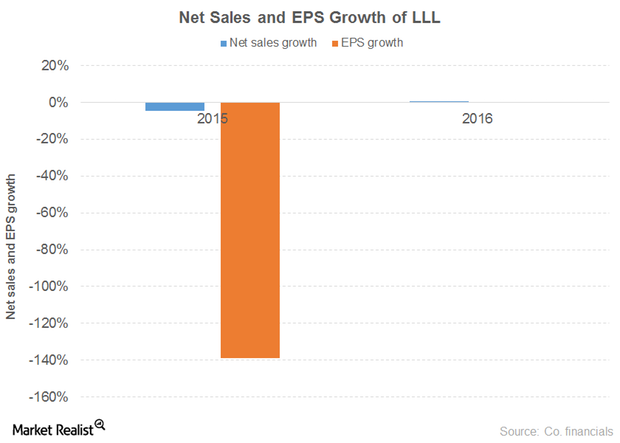 Why Is LLL's Dividend Yield Slipping despite Dividend Growth?
By Amanda Lawrence

Oct. 23 2017, Updated 10:36 a.m. ET
Net sales and EPS performance in 2015 and 2016
L3 Technologies (LLL) is a principal provider of communication and electronic systems for military, security, and commercial platforms. The company noted flat net sales growth in 2016 after a 5% decline in 2015. Aerospace systems and communication systems drove the 2016 results offset by electronic systems. All segments except communications posted growth in 2015. The US, Canada, and France drove the 2016 performance, offset by the UK, Australia, Saudi Arabia, South Korea, Japan, and others. In 2015, the US, Canada, South Korea, Japan, France, and others drove the decline, offset by the rest.
Article continues below advertisement
Gross profit rose 13% in 2016 after declining 12% in 2015 due to the increase and decrease in costs in 2015 and 2016, respectively. Operating income rose 112% in 2016 after declining 53% in 2015. A goodwill impairment charge and higher interest expenses triggered the 2015 decline. All of these factors translated into impressive EPS growth in 2016 unlike the negative EPS in 2015. Share buybacks further enhanced the EPS numbers.
Net sales and EPS performance in 1H17
L3 Technologies posted an 8% increase in net sales in 1H17. Electronic systems, communication systems, and sensor systems drove the growth, offset by aerospace systems. Gross profit and operating income rose 13%. These factors translated into a 3% decline in EPS. Interest expenses rose slightly during the period.
Dividend yield
The company has increased its dividend. The dividend yield has slipped to 1.6% as prices have risen 23.3% on a YTD basis. In comparison, the Dow Jones Industrial Average (DJIA-INDEX) (DIA) has a dividend yield of 2.3% and YTD price gains of 15.7%. The S&P 500 (SPX-INDEX) (SPY) has a dividend yield of 2.3% and YTD price gains of 14%. The NASDAQ Composite (COMP-INDEX) (ONEQ) has YTD price gains of 22.7%. L3 Technologies generates enough free cash flow to pay its dividends. However, the free cash flow balance has fallen over the years.