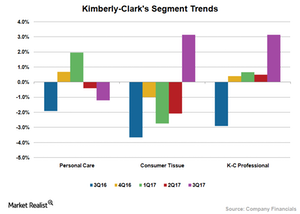 Kimberly-Clark: Analyzing Segments' Top-Line Performance
By Amit Singh

Updated
Personal Care segment continued to disappoint
Kimberly-Clark's (KMB) Personal Care segment continued with its tepid top-line performance, which reflected challenges in North America and South Korea. The company's peers including Procter & Gamble (PG) and Colgate-Palmolive (CL) also witnessed lower demand for their products in the domestic market, which hurt their top-line growth.
Kimberly-Clark's Personal Care segment reported sales of $2.3 billion—down ~1% YoY (year-over-year). The improved product mix was more than offset by the lower volumes and net selling price.
Article continues below advertisement
The segment's sales in North America fell ~3%, which reflected a 2% fall in the net selling prices due to increased promotional spending to fend off the competition. The volume fell 1% due to Huggies' lower diaper volumes. Meanwhile, baby wipes and feminine care volumes witnessed a fall in the mid-single-digits. However, the adult care category improved, which reflected higher promotions and innovation.
The top line rose 3% in developing and emerging economies, driven by higher volumes and a favorable mix in Eastern Europe and Latin America. However, lower pricing remained a drag. Sales in developed markets outside North America (including South Korea, Australia, and Western & Central Europe) fell 6%, which reflected a steep volume decline mainly in South Korea. Net selling prices fell 2%. It partially offset by favorable currency movement and an improved mix.
Article continues below advertisement
Consumer Tissue segment rebounded
Sales at the company's Consumer Tissue segment rebounded in 3Q17 due to improved volumes. The division posted sales of $1.5 billion—up 3% due to increased volumes and favorable currency movement—partially offset by lower pricing and a negative mix.
The segment's top line in North America rose ~3% due to higher promotions and soft sales in the comparable base period. Meanwhile, sales in the developing and emerging markets rose 5% due to higher volumes and favorable currency rates. The segment also marked improved sales in developed regions outside North America.
KCP segment continued to grow
The KCP segment's top line came in at $0.8 billion—up ~3% YoY, reflecting higher volumes and improved product mix. Segment's sales in North America rose 3%, driven by volume growth across all major categories. Meanwhile, the top line in developing and emerging markets benefited from an improved mix and higher volumes. Besides, sales in developed regions outside North America rose 5% due to improved volumes and mix, higher pricing, and favorable currency rates.