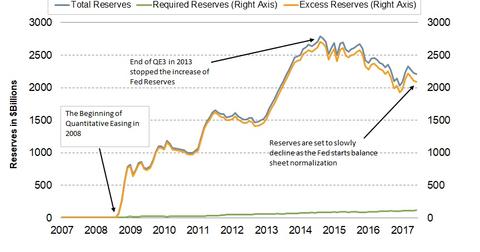 Janet Yellen's Take on the Challenging Decade of Monetary Policy
By Ricky Cove

Updated
A challenging decade of monetary policy
It has been almost a decade since the onset of the worst financial crisis after the Great Depression, and the US Fed has embarked on a monetary path it has never taken before. The federal funds rate reached zero, and with no other monetary tools at its disposal, the Fed began its unconventional monetary policy journey to revive the failing US economy. There were three quantitative easing programs with the first one beginning in December 2008 and the third QE program ending in August 2013. As part of this exercise, the Federal Reserve purchased US Treasury (TLT) securities and mortgage-backed securities (MBG). The Fed's balance sheet size was $147 billion when the program started in 2008, and it has now ballooned to $4.4 trillion.
Article continues below advertisement
Janet Yellen at the Herbert Stein Memorial Lecture
Fed Chair Janet Yellen spoke at the 2017 Herbert Stein Memorial Lecture, which was organized by the National Economists Club in Washington on October 20. In her speech, Janet Yellen listed the challenges facing the US Fed in conducting unconventional monetary policy operations over the last decade. Her speech consisted of four major segments, as listed below.
Meeting the Challenge of Providing Additional Accommodation
Meeting the Challenge of Scaling Back Accommodation
A Closer Look at Our Balance Sheet Strategy
A Key Question for the Future
Why we need to understand this speech
Janet Yellen served as the president and CEO of the Federal Reserve Bank of San Francisco from 2004 to 2010, vice chair since October 2010, and Chair of the Board of Governors since February 2014. She has been a vital part of the FOMC, which embarked on this epic journey that was never taken before. Her views on what has happened during this period were presented in this speech.
In this series, we'll discuss the four segments of Janet Yellen's speech in detail to understand the implications for the fixed income (BND), equity (SPY), and currency (UUP) markets.