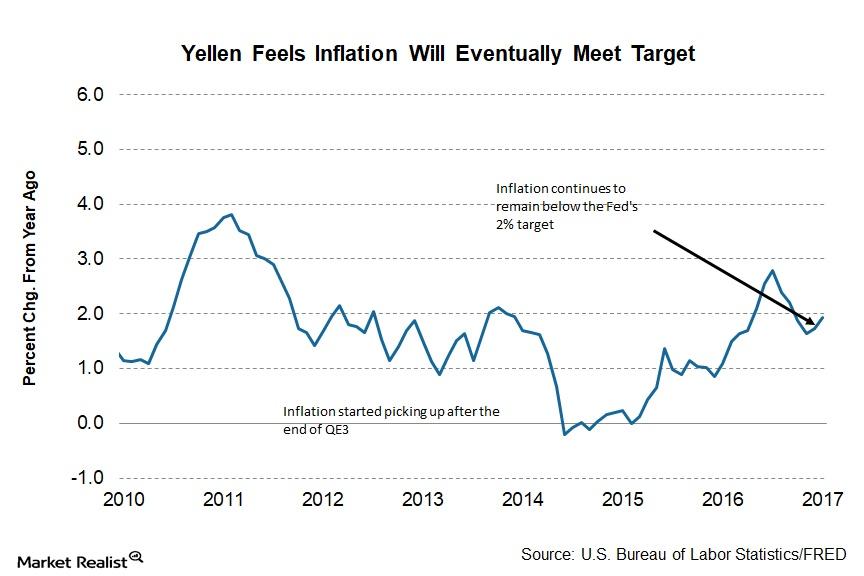 Janet Yellen: The Challenges of Additional Accommodation
By Ricky Cove

Oct. 31 2017, Updated 4:50 p.m. ET
Monetary tools
In her speech at the 2017 Herbert Stein Memorial Lecture, Fed Chair Janet Yellen explained the tools that were used by the Fed to combat the economic slowdown in the aftermath of the 2007 financial crisis. As part of the unconventional monetary policy, the US Fed has used two key tools: large-scale asset purchases and providing forward guidance about intentions for the path of short-term interest rates.
Article continues below advertisement
Impact of these measures
The tools the Fed used resulted in keeping short-term interest rates low and, as the Fed started purchasing assets, it helped maintain lower long-term rates as well. This combined mechanism resulted in lowering the yield (TBT) or interest rates (BND) demanded by investors even for long-term securities (TLT). Yellen said that several studies have found that the two-pronged approach has resulted in a substantial reduction in long-term interest rates. Lower interest rates, in Yellen's view, have resulted in lower borrowing costs for individuals and companies, resulting in increased consumption, corporate spending that helped avoid disinflation (TIP), and a reduced unemployment rate.
Criticism of the accommodative policy
Janet Yellen addressed criticism about the slow pace of economic recovery despite this additional accommodation by pointing out that the recovery would have been much slower without these measures. Yellen has also said that other central banks that followed the Fed's initiative have accumulated evidence that such unconventional monetary policy measures have helped stimulate their respective economies'.
It's hard to point out the catalyst for economic recovery, but these accommodative measures, even if slow, have benefited some quarters of the economy. Lower borrowing costs usually aid consumption in the form of new homes, cars, and capital expenditure. The other advantage was a weaker US dollar (UUP) that improved the competitiveness of US companies.
In the next part of this series, we'll discuss the challenges the Fed has faced in scaling back monetary accommodation.