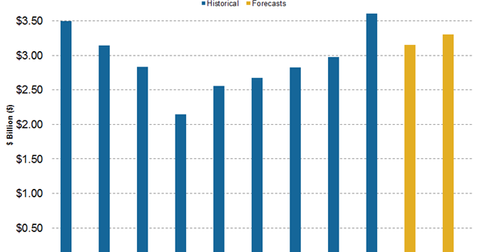 Is the Permian Driving Occidental Petroleum's Revenue Growth?
By Keisha Bandz

Oct. 6 2017, Published 1:01 p.m. ET
Occidental Petroleum's revenue
Occidental Petroleum's (OXY) 2Q17 revenues were higher both on a year-over-year and quarterly basis. It reported revenues of $3.6 billion, a 41.0% rise year-over-year and a 21.0% rise sequentially. Oil and gas sales made up 51.2% of its total revenue at $1.8 billion. The chemicals sector accounted for the second-highest revenue component at ~$1.2 billion.
Article continues below advertisement
2Q17 production
OXY's 2Q17 total output was 603.0 Mboepd (thousand barrels of oil equivalent per day). That was only ~1.0% lower than its 2Q16 production volumes, which were offset by higher realized prices in 2Q17 compared to 2Q16. US operations accounted for ~49.0% of the company's total production. Realized oil prices in the United States in 2Q17 were $44.94 per barrel compared to $41.43 in 2Q16. Worldwide crude oil price realizations in 2Q17 were $46.55 per barrel compared to $39.66 per barrel in 2Q16.
Sequentially, OXY's production was higher by 3.4%. The 2Q17 production increase was driven by OXY's Permian Resources and Permian Enhanced Oil Recovery operations. In 2Q17, Permian production increased ~7.0% to 138.0 Mboepd compared to 1Q17. That was a result of increased drilling activity and well productivity.
Article continues below advertisement
Production forecasts for 2017
OXY is planning to bring ~130 wells online in 2017. It also expects production from its Permian resources to exit this year at a growth rate of ~30.0% compared to 2016 levels.
OXY is a key producer in the Permian Basin. To further cement its position in the region, it bought Hess's (HES) enhanced oil recovery assets in the Permian Basin in June for $600.0 million. To know more, read Behind Hess's Big Permian Asset Sale to Occidental.
Probably as a result of lower crude oil prices for most of 3Q17, analysts have lowered their revenue expectations for OXY in 3Q17, as you can see in the above chart. Average crude oil prices at the end of 3Q17 were $47.40 per barrel. In comparison, crude oil prices were averaging $51.86 per barrel at the end of 1Q17 and $48.20 at the end of 2Q17.