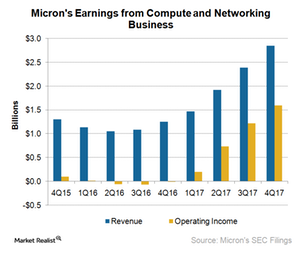 Is CNBU the Biggest Driver of Micron's Fiscal 2017 Earnings?
By Puja Tayal

Oct. 17 2017, Updated 9:06 a.m. ET
Micron's CNBU revenue drivers
Micron Technology (MU) is the third-largest DRAM (dynamic random access memory) supplier in the world after Samsung (SSNLF) and SK Hynix. Micron was the biggest beneficiary of the rising DRAM prices, as it earns more than 60% of its revenues from DRAM. In fiscal 4Q17, DRAM's revenue contribution reached its highest point in more than two years—66%.
Most of Micron's DRAM is used in its CNBU (Compute and Networking Business Unit). As DRAM prices rose, CNBU's revenue contribution rose to 46%, its highest level in more than two years.
Article continues below advertisement
CNBU primarily supplies DRAM products to five subsegments: graphics, enterprise, cloud, networking, and client (personal computers). PC vendors such as HP Inc. (HPQ) and Lenovo faced the heat of rising memory prices. They passed on this additional cost to their customers, which slowed sales growth. However, this trend showed that memory makers had the upper hand in price negotiations.
CNBU earnings
Micron's CNBU revenues rose 19% sequentially to $2.85 billion, exceeding expectations of $2.60 billion in fiscal 4Q17. CNBU's revenues rose 128% YoY (year-over-year) in fiscal 4Q17, its highest YoY growth in more than two years.
This better-than-expected growth was driven by strong demand in Cloud and Graphics, stated Micron's chief executive officer, Sanjay Mehrotra, during the company's fiscal 4Q17 earnings call.
He stated that cloud sales rose as DRAM content per server rose nearly 50% YoY and graphics sales rose as its industry-leading GDDR5 and GDDR5X (graphics double data rate) memory was used by NVIDIA (NVDA) for gaming.
CNBU's operating profit rose 31% sequentially to $1.6 billion, representing an operating margin of 56%. This was the highest margin in more than two years. The company earned 64% of its operating income from CNBU in fiscal 4Q17.
The segment benefited from the initial ramp-up of its first-generation 1X 8-GB (gigabit) DDR4 product. The company expects this growth to continue in fiscal 1Q18 as the company ramps up its second-generation 1X 8-GB DDR4 and GDDR5 products.
Micron has secured design wins for TSV-stacked DDR4 products that support analytics and in-memory databases in industry-standard server platforms.
During the company's fiscal 4Q17 earnings call, Micron's chief financial officer, Ernie Maddock, stated that in fiscal 1Q18, the company would stop reporting the segmentation of DRAM and NAND (negative AND) technologies by end markets.
Next, we'll look at Micron's mobile business.