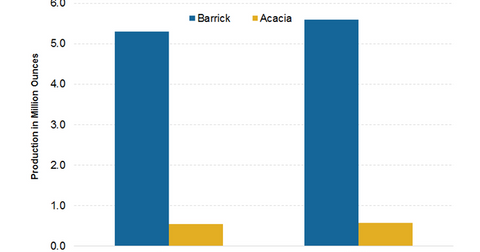 Barrick's Proposed Framework for Its Tanzania Issues
By Anuradha Garg

Updated
Tanzanian mineral ore ban
The Tanzanian government banned mineral concentrate exports from the country in March 2017. It believed it wasn't getting a fair share of profits from mining in the country. The government also accused mining companies—including Acacia—of under-invoicing their sales. Acacia is Barrick Gold's (ABX) 63.9% owned subsidiary. Acacia's operations impacted by the ban contribute ~6% to Barrick's gold production guidance for 2017. In all, Acacia accounts for ~10% of Barrick's total production.
Article continues below advertisement
Proposed framework
This issue has been an overhang on Barrick's shares for the last few months. On October 19, Barrick announced that the company and the Government of Tanzania have agreed on a framework for a new partnership between Acacia and the government. This partnership includes sharing economic benefits generated by Acacia on a 50/50 basis going forward. The government's share of benefits would be delivered in the form of royalties, taxes, and a 16% free carry interest in Tanzanian operations. The proposed framework also entails a payment of $300 million by Acacia toward the resolution of outstanding tax disputes.
Investors' viewpoint
While the proposed framework should work toward ending the months-long stand-off between Acacia and the Tanzanian government, not many mining investors are happy about the framework. They argue that handing over 50% of the economic benefits and 16% stakes in each of its three mines in Tanzania to the government would set an expensive precedent for governments around the world. As reported by Seeking Alpha, an analyst at Gabelli Gold Fund says, "The 50 per cent is not a good precedent by any means for a very risky business."
Resource nationalism has become an issue in many countries lately. While Barrick has found a solution to the current problem, similar issues have stalled many projects. That's the main reason why gold companies (GDX)(GDXJ) are trying to acquire projects in geographically stable jurisdictions. Newmont Mining (NEM) and Goldcorp (GG) have exposure to relatively stable jurisdictions. Kinross Gold (KGC) is trying to improve its geographical profile by adding reserves in Americas.