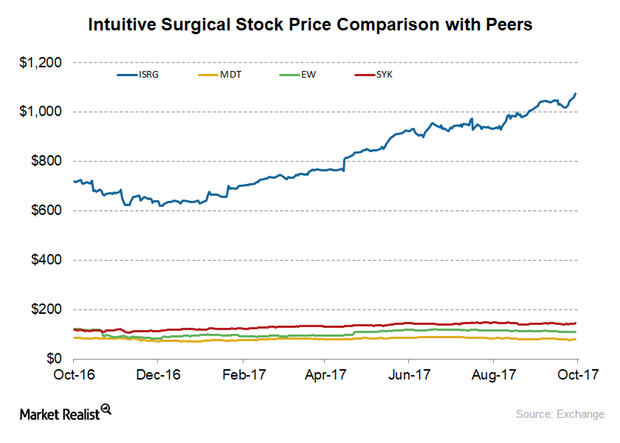 Intuitive Surgical's Recent Stock Split: The Market Reaction
Overview
On October 6, 2017, Intuitive Surgical will start trading on a split-adjusted basis. It has scheduled a stock split for its shares at a ratio of 3:1. With strong growth recently for the stock, ISRG stock has hit new highs. So the company decided to split its shares to provide more value to its shareholders and more ease in stock trading. The stock split was approved in a special shareholder meeting that took place on September 22, 2017. The authorized shares were increased from 100.0 million to 300.0 million to be able to effect a 3:1 stock split. As a result of the split, existing shareholders will receive an additional two shares for each share they own.
Article continues below advertisement
What is a stock split?
A stock split takes place when a company issues more shares to its existing shareholders and thus increases the number of outstanding shares Although the number of shares increases, the market capitalization of the stock remains constant since the share price falls by the same ratio.
Generally, companies decide to effect a stock split when the stock's share price exceeds peer companies' price levels and increases to such high levels that it seems to be unaffordable for small investors. A stock split thus improves the liquidity of a stock. As you can see in the above chart, Intuitive Surgical is trading significantly higher than its peers.
How the market will likely react
Intuitive Surgical has witnessed a strong uptrend in its stock price in the recent period. That's due to the company's strong fundamentals and increasing market share in the surgical robotics market, which is expected to grow at a fast pace in the future. The company's innovative product launches have boosted its growth prospects and investor sentiments.
Generally, after a stock split, a company's stock sees a rise in price since the stock's affordability increases and small investors who want exposure to the company are able to buy the stock. A stock split is also seen as a positive signal in the market, and the company is seen as a potential growth investment. More investors thus tend to be interested in the stock.
The event might also trigger a stock price movement for the Vanguard Health Care ETF (VHT). VHT has ~1.1% of its total holdings in ISRG.
Other companies in the US medical technology sector that recently completed stock splits include Henry Schein (HSIC), Varian Medical Systems (VAR), and Integra LifeSciences Holdings (IART).