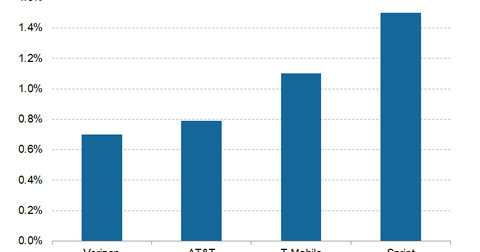 Intense Competition Could Increase Churn Rate for Verizon in 3Q17
By Ambrish Shah

Updated
Verizon's churn rate
In the previous part of this series, we learned about the anticipated growth in Verizon's (VZ) prepaid customers during 3Q17. Now, let's analyze Verizon's customer retention metric, the churn rate.
Wall Street analysts expect Verizon's postpaid phone churn rate to increase, mostly due to the increasingly intense competition in the postpaid market and more aggressive promotional offers from competitors.
According to a FierceWireless report on September 18, 2017, "Industry churn will likely rise following the launch of the new iPhone, which will accelerate share gains at the challengers."
A rise in churn rate is negative for wireless carriers, as they must incur additional acquisition costs associated with subscribers. This trend would have a negative impact on companies' operating margins. As a result, a rise in churn rate can be concerning for investors.
In 2Q17, Verizon reported a postpaid phone churn rate of 0.70%. This could be an important metric, as T-Mobile (TMUS) and Sprint (S) have made much of their ability to attract customers from other major telecom carriers such as AT&T (T) and Verizon.
Article continues below advertisement
Verizon's peer comparison of postpaid phone churn in 2Q17
In 2Q17, Sprint and T-Mobile reported postpaid phone churn rates of 1.5% and 1.1%, respectively. AT&T reported a postpaid phone churn rate of 0.79% during the same quarter. As a result, Verizon had the best postpaid phone churn rate among the top four US wireless carriers.