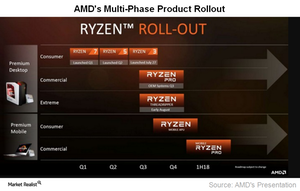 Intel Responds to Competition from AMD with Coffee Lake
By Puja Tayal

Dec. 4 2020, Updated 10:52 a.m. ET
AMD's most popular CPU: Ryzen 5 1600x
Advanced Micro Devices (AMD) launched its first desktop Ryzen processors in March 2017. In the last six months, it has launched the complete range of its Ryzen 7, 5, and 3 desktop processors for high-, mid-, and low-end markets. Among all these processors, Ryzen 5 1600X was the most popular product. PCGamesN reviewed the Ryzen 5 1600X and found that the CPU provides value for the money.
The site overclocked the 1600X and improved memory support and found that the CPU delivered 13% performance boost at no additional cost. While the performance boost is not significant, it gives value for the money at a $220 price tag.
Article continues below advertisement
AMD threatens Intel in the PC processor market
Until now, Intel (INTC) has been squeezing out profits from the declining PC market by segmenting its products and increasing prices. This strategy worked out as it had a monopolistic position in the market. However, increasing competition from AMD would reduce Intel's pricing power.
AMD's Ryzen is posing a threat to Intel, as the latter earns almost 80% of its operating income from the CCG (Client Computing Group). The competition from AMD would reduce Intel's revenues and operating profits.
Tech gurus debate whether AMD's Ryzen offerings are superior to Intel's offerings, as the former offers better power efficiency and similar performance at lower prices. In fact, Ryzen products have outperformed Intel's offerings in multithreaded tasks. Even if AMD's offerings are not superior, they are competitive to Intel's products in terms of performance.
AMD's Ryzen 5 1600X brought six cores and 12 threads to the mainstream market for the first time. Responding to increasing competition, Intel is set to launch the eighth-generation Coffee Lake Core i7-8700K processor. Intel claims that the new processor would feature six cores and 12 threads and outperform the Ryzen 5 1600X. However, some leaks do not support Intel's claim.
Article continues below advertisement
Could Intel's Coffee Lake beat AMD's Ryzen?
According to an ArsTechnica article, Intel's i7-8700K Coffee Lake processor outperforms its predecessor four-core/eight-thread Core i7-7700K by 30% in the multithreaded benchmark Cinebench R15. The i7-8700K competes strongly with AMD's Ryzen 1600X but underperforms the eight-core/12-thread Ryzen 7 1700 and 1800X. It is important to note that these are leaked benchmarks and should be taken with a grain of salt.
Even if Intel's Coffee Lake does not deliver significant performance improvement over AMD's Ryzen, the former would stand to benefit. This is because Intel has launched the first Coffee Lake chip for notebooks, whereas AMD's Ryzen Mobile CPUs would not launch before 4Q17. 
Several PC OEMs (original equipment manufacturers) like Lenovo and HP Inc. (HPQ) would feature the Coffee Lake processor in more than 145 laptop and notebook designs, with the first devices arriving in September 2017. Coffee Lake could benefit from the holiday season sales, whereas AMD would miss this opportunity.
Next, we will look at Ryzen Threadripper.