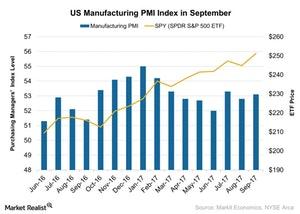 Does Improving US Manufacturing Mean a Stronger Business Climate?
US manufacturing PMI in September
September's final US manufacturing PMI stood at 53.1, compared to 52.8 in August. It met the preliminary market expectations of 53. The manufacturing PMI showed more strength in September 2017.
The US final manufacturing PMI rise in September is mainly due to the following factors.
Production volume rose at a stronger pace in September 2017 due to improved market conditions.
New order growth also rose at a higher rate in September 2017.
Employment in the manufacturing sector also grew at a stronger rate since December 2016.
The final manufacturing PMI in September suggests a stronger business condition for the US manufacturing sector (QQQ)(SPY). International demand for the manufacturing industry also remained stronger in September 2017. Raw material prices rose in September after the recent hurricanes. However, adverse weather conditions affected the performance of several vendors in September. The rise in raw material prices pushed up input price inflation.
Article continues below advertisement
Performance of various ETFs in September
The SPDR S&P 500 ETF (SPY), which tracks the performance of the S&P 500 Index, rose nearly 2% in September 2017. The PowerShares QQQ Trust, Series 1 (QQQ), which tracks the performance of the major technology stocks in the United States, fell nearly 0.3% in September 2017.
In the next part of this series, we'll analyze the performance of France's final manufacturing PMI in September 2017.