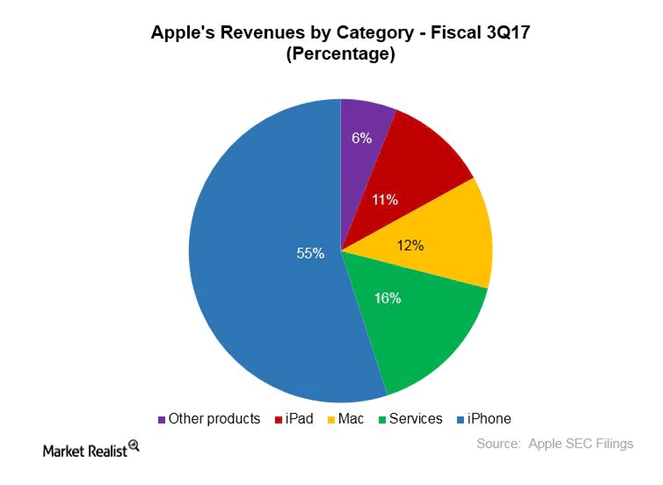 How will Apple's Services Business Segment Perform in Fiscal 4Q17?
APPL's services revenue in fiscal 3Q17
Apple's (AAPL) Services segment is now its second-largest in terms of revenue, accounting for ~16% of total revenues at the end of fiscal 3Q17. The Services segment generates revenues from several businesses, including Apple Music, App Store, iTunes, Apple Pay, and Apple Care.
In fiscal 3Q17, Apple's Services business rose 22% YoY (year-over-year) to $7.3 billion, up from $6 billion in fiscal 3Q16. This segment has been Apple's fastest-growing in terms of revenue for the past two years.
Article continues below advertisement
Services revenues could reach $50 billion by 2020
Apple's Services business generated $24 billion in fiscal 2016—a figure that is expected to double by the end of fiscal 2020 and reach $50 billion. Based on its revenues over the last four quarters, the Services business is the size of a Fortune 100 company. Services revenues over the past four fiscal quarters have totaled $27.8 billion, surpassing that of Facebook (FB), which generated revenues of ~$27.6 billion.
Last year, Apple announced that the firm would reduce its cut to 15% from 30% for in-app subscriptions, thereby encouraging long-term relationships for third-party developers with users. Paid subscriptions for fiscal 3Q17 rose 20 million to 185 million.