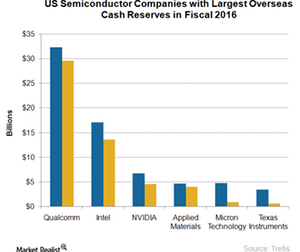 How US Companies Like Intel Save Taxes on Overseas Income
By Puja Tayal

Oct. 17 2017, Updated 3:36 p.m. ET
How US companies save taxes
In the previous part of this series, we saw that companies based in the US are at a disadvantage by their foreign rivals due to the 35% corporate tax. As a result, they have developed strategies to reduce their taxes.
Some companies have shifted their headquarters from the US to countries with low tax rates. However, they still operate in the US markets. Some companies, especially tech firms, have utilized this feature of the US tax system.
Overseas income is not subject to the US corporate tax unless it is repatriated to the US parent company. These companies moved a large amount of cash, which they used overseas instead of in the US.
Apple (AAPL) has $223.0 billion of unrestricted cash held overseas, and Qualcomm (QCOM) has ~$30.0 billion in cash held overseas. According to Fortune, S&P 500 companies (SPY) have held up to 40% of their annual income overseas in recent years.
Article continues below advertisement
The need for tax reform
Because companies adopt these methods to reduce their tax obligations, US companies have an effective tax rate of ~28% of their worldwide profits, according to the U.S. Treasury Office of Tax Analysis. This effective tax rate is well below the maximum tax rate of 35%.
The US government not only lost significant tax revenues from these multinational companies but also lost the opportunity of corporate investment within the country.
To encourage these companies to invest their cash in the US, the White House and Congressional Republicans proposed a territorial system in their tax reform framework.
We'll look into this system in the next article.