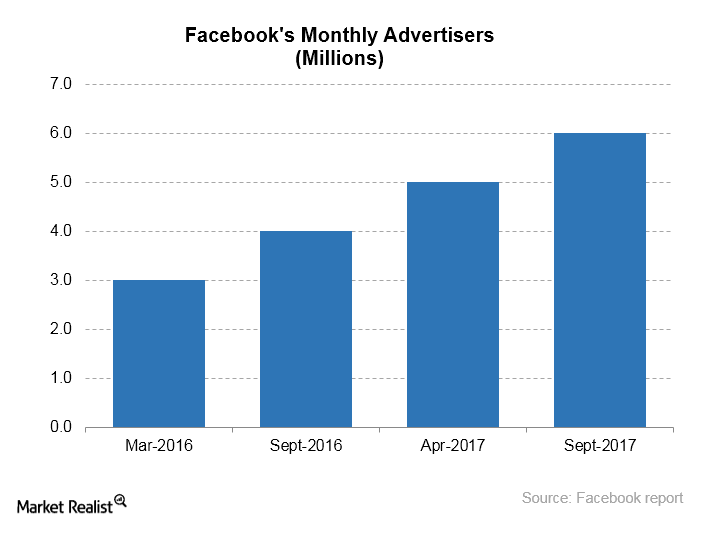 How Twitter Gets Its Top Advertisers to Increase Their Spending
By Neha Gupta

Oct. 11 2020, Updated 12:26 p.m. ET
Top advertisers boost spending by 23%
Twitter's (TWTR) top 100 global advertisers increased their spending on the platform by 23% YoY (year-over-year) in 3Q17. What are big advertisers seeing on Twitter that encourages them to spend much more money on the platform? It turns out Twitter is getting it right in terms of ROI (return on investment) and ad measurements, and this is inspiring marketers to increase their advertising budgets to pitch to its audience.
Speaking at a recent technology (QQQ) event organized by UBS, Twitter's chief financial officer, Ned Segal, highlighted how the company was enhancing value for marketers and getting them to increase their ad spending as a result.
Article continues below advertisement
Improving ROI for advertisers
Segal said that Twitter now delivers much better ROI for advertisers than it did a year ago. He went on to say that studies have shown that Twitter is capable of delivering ROI that's 40% better than what advertisers can get on other platforms, and that this stems from Twitter's ability to show the right ads at the right time.
Improved measurements
Better ad measurement is also encouraging Twitter's large advertisers to increase their marketing budgets on the platform.
Unlike Facebook (FB), Twitter, Snap (SNAP), and Alphabet's (GOOGL) Google do not disclose the exact number of advertisers they have. Facebook reported in September 2017 that it had 6.0 million active advertisers on its flagship social media platform. It disclosed 5.0 million active advertisers in April 2017.