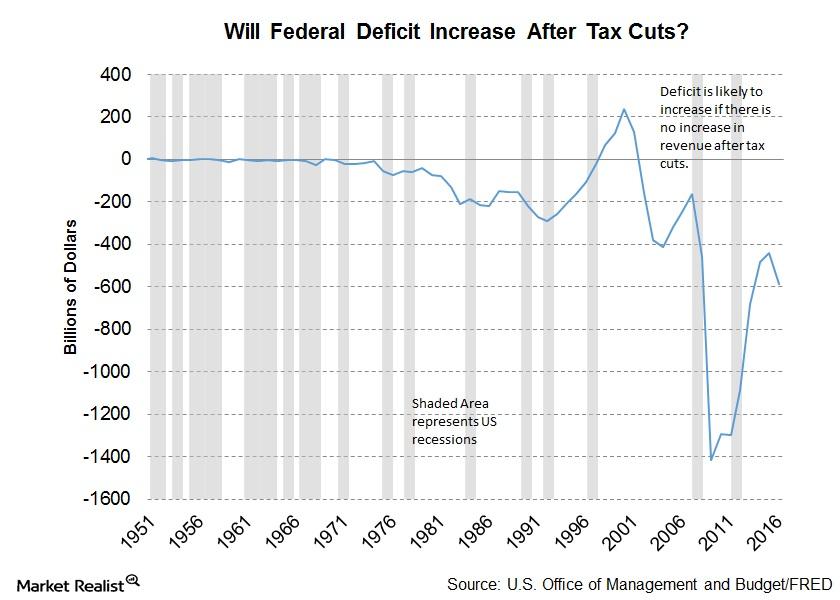 How Trump's Tax Reforms Could Impact the US Economy
Deficit likely to balloon
The path to President Trump's tax reform plan could be troubled by the prospect of a ballooning deficit because the plan offers generous tax cuts. For this financial year through August 2017, the US federal deficit stood at $674 billion. Spending has risen 3% over last year, and receipts have risen 2%.
Meanwhile, Trump's proposed increases to infrastructure (PKB) spending and tax cuts are likely to increase the deficit further. According to a report published by the tax foundation, the ten-year dynamic revenue impact could mean an addition of $2.6 trillion–$3.9 trillion in debt.
Article continues below advertisement
The impact on the US economy
Republicans who have been strong supporters of tax cuts argue that the revenue loss from tax cuts would likely be offset by the growth in economic activity. The economic conclusions of the right-leaning Tax Foundation, while widely contested, argue that corporate tax cuts can often have a better impact on impact on the economy than government spending, as tax cuts often show immediate results by improving the consumption in the economy.
The Tax Foundation's analysis suggests growth in capital investments by 20.1%–23.9%, a wage rate increase of 5.4%–6.3%, and total job additions of 1.8 million–2.1 million. If Trump's tax reforms manage to be approved—and if the Tax Foundations contested views turn out to be accurate—we could see a considerable positive impact on the economy over the next few years, leading to higher inflation (TIP) and higher interest rates.
Can we expect the bill to be passed before the end of 2017
House Speaker Paul Ryan has announced that a tax reform outline will be taken up by the House Ways and Means Committee along with the Senate Finance Committee to introduce a bill for a vote in the next few weeks. But we can't know how long it would take for such a bill to gain approval across the various factions of both houses of Congress. To be sure, US markets (SPY) (QQQ) have been rallying since the US election in November 2016 in anticipation of tax cuts.
In the next part of this series, we'll discuss whether markets (DOD) have already discounted these tax cuts—or if there could be further upside from here.