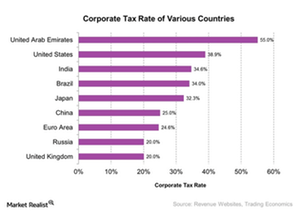 How Trump's Tax Reform Plan Affects Semiconductor Companies
By Puja Tayal

Updated
Trump's tax reform at a glance
The United States technology sector (QQQ) has long been lobbying the Trump administration to implement tax reforms that could make the country's tech companies more competitive. The day could be nearing, as Republican negotiators released President Trump's unified framework on tax reform at the end of September 2017.
The framework proposes to reduce the corporate tax from 35% (or 38.9% including state taxes) to 20%, introduce a territorial tax system, and expense capital spending. The proposal also encourages repatriation of foreign cash and profits.
These tax reforms aim to discourage offshoring, which would return jobs to the US. The proposal is a nine-page document with a lot of elements, but we will only focus on the above four elements.
Article continues below advertisement
Semiconductor industry and tax reforms
If implemented, these reforms would benefit Qualcomm (QCOM), Intel (INTC), and NVIDIA (NVDA) the most, as they have billions of dollars in earnings held abroad for tax purposes.
This proposed tax framework has received support from the SIA (Semiconductor Industry Association), as it believes the reform would make US semiconductor companies (SMH) more competitive with their global counterparts. The Wall Street indexes moved up a day after the proposal was released, with the tech-heavy NASDAQ outperforming its counterparts.
However, TheStreet's co-founder, Jim Cramer, believes the Wall Street upside is not due to the proposed tax reform. He welcomes the proposal but believes the reform would impact Wall Street only when it is implemented.
Trump looks into China
Trump has also authorized an investigation into China's (FXI) trade practices as several industries, including the tech sector, have been voicing concerns that China's industrial policy is threatening their intellectual property. SIA also welcomed Trump's stance toward China.
While all these policies were welcomed by semiconductor companies, one policy that they opposed was the restrictive immigration legislation. The idea behind this legislation was to encourage companies to hire US citizens. However, there is a possibility that this legislation could backfire as industries could replace workers with technology.
In this series, we'll look at these tax reform proposals and their impact on the US semiconductor industry.