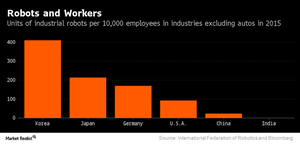 How Trump's Immigration Policy Could Affect Intel's Industrial IoT Business
By Puja Tayal

Oct. 20 2017, Updated 9:06 a.m. ET
Trump's immigration legislation
While we are discussing various legislative changes, one of the Trump administration's key initiatives is immigration reform. This legislation was not welcomed by the tech industry and other industries, as this change would increase the cost of labor for several companies.
The Trump administration proposed this legislation with the intention of bringing manufacturing jobs back to the United States and reducing unemployment.
Article continues below advertisement
Can restrictive immigration benefit technology industry? 
ExtremeTech's Aaron Krumins shared another possible outcome of the immigration legislation. Economic theory holds that a decrease in labor supply increases wages. However, this rule works when there is no substitute. Technology is now providing a cheaper substitute to labor.
Krumins supported his statement with examples of Germany (EWG) and Japan (EWJ). These nations had previously adopted restrictive immigration policies, which encouraged companies to invest in robotic automation. There is a possibility that US companies would also invest in robots and industrial automation to reduce labor costs.
The US is slowly moving in that direction, as Intel (INTC) and Analog Devices (ADI) see strong demand from the industrial sector. In 2Q17, ADI's industrial revenues rose 87% YoY (year-over-year). The administration's immigration legislation could accelerate industrial IoT (Internet of Things) growth.
Economics of technological advantage
The economics of technological advantage is slightly different. Once a technology is adopted, it cannot be undone. Once an industry is automated and a robot is deployed, it would not be reversed just rehire employees. Those job opportunities would be lost.
History has shown that when a technology is adopted, it creates more jobs than it takes away. However, the nature of the job changes. For example, when machines replaced humans in dangerous manufacturing environments during the industrial revolution, it created less labor-intensive jobs in the service and white collar sectors.
With the AI (artificial intelligence) revolution, technology is also taking away some of this physical work. If the US does not provide effective training to workers and scale up their skills to surpass these machines, their jobs could become obsolete.
The SIA (Semiconductor Industry Association) proposed a policy plan to President Trump that called for policies that would attract and retain highly skilled workers in the STEM fields—science, technology, engineering, and math.