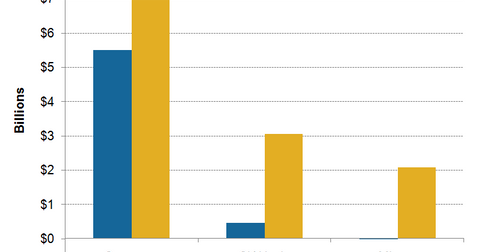 How the DRAM Market Benefits Memory Suppliers Like Micron
By Puja Tayal

Updated
DRAM is a sellers' market
DRAM (dynamic random access memory) is a key component of a system, and device manufacturers need a certain amount of DRAM to deliver the desired performance. This makes DRAM demand inelastic, as device makers have to buy DRAM regardless of higher prices.
So, a supply shortage has been increasing DRAM prices for the last 11 months. According to Forbes, DRAM prices have almost doubled in the last 12 months.
Just a year ago, DRAM buyers were enjoying the benefits of DRAM oversupply by significantly pushing down prices even though suppliers lost money. Micron (MU) reported a net loss of $9 million in fiscal 4Q16. Now, the situation has been reversed.
Article continues below advertisement
DRAM undersupply
The DRAM market is facing undersupply, and suppliers are charging higher prices although DRAM buyers are losing money. In its last earnings report, Apple (AAPL) talked about how increasing component prices impacted its gross margin in 3Q17.
The three DRAM suppliers—Samsung (SSNLF), SK Hynix, and Micron—are reporting record profits from memory sales. In 2Q17, Samsung's operating profit rose 540% year-over-year (or YoY) to $7 billion, and SK Hynix's operating profit rose 570% YoY to $2.6 billion. Micron moved from an operating loss of $20.0 million in 2Q16 to an operating profit of $2.0 billion in 2Q17.
Overall DRAM demand drivers
The overall DRAM demand is expected to grow in 2018, driven by increasing memory content in smartphones. There is strong demand from major cloud customers as Amazon (AMZN) and Google (GOOG) build big data centers.
DRAM demand is likely to increase over the medium term, driven by AI (artificial intelligence) and self-driving car trends.
DRAM supply drivers
History shows that DRAM undersupply turns to oversupply as market players add more DRAM capacity to capture additional market share. A supplier can increase DRAM capacity in just six months by expanding an existing facility. If a supplier builds a new plant, it would take at least two years to increase capacity.
Many analysts believe that a similar history would not repeat, as consolidation in the DRAM market to just three players has brought supply discipline and moderated the peak-to-trough declines.
Goldman Sachs estimates DRAM capital expenditures to increase 24% YoY in 2017. Despite this, DRAM prices are rising because the capital is being spent on technology transitions instead of capacity expansions.
However, SK Hynix is looking to increase DRAM capacity as technological improvements alone are not sufficient to meet growing market demand. This has raised concerns that DRAM price growth is unsustainable. The other two players are not expanding DRAM capacity.
However, IC Insights believes that Samsung and Micron would eventually increase their DRAM capacity to protect their market share, leading to oversupply. A price war requires only two companies, and there are three players in the DRAM market.
Next, we will look at Micron's NAND business.