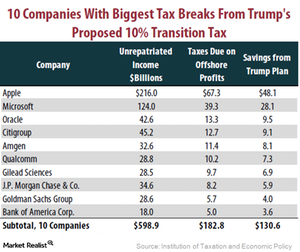 How Repatriation Tax Reform Affects Semiconductor Companies
By Puja Tayal

Updated
Repatriation tax reform 
The new tax reform framework proposed by the Trump administration includes the introduction of a territorial tax system for overseas earnings. Under this system, dividends from foreign subsidiaries would be completely exempted from domestic taxes.
A foreign subsidiary is defined as one in which the company has at least a 10% stake. Dividends are passive income, which doesn't present a significant impact to a company.
The major reform that US companies were seeking was a 100% exemption on active income, which is income earned from manufacturing goods abroad. However, the proposed tax reform did not give these companies everything they wanted.
Instead, the new tax framework imposes a mandatory repatriation of all overseas income held by US companies, subjecting these companies to a lower tax. This would repair the tax loophole and require US companies to pay a minimum repatriation tax on its worldwide profits in the current year.
Within this framework, overseas profits held as cash or securities would face a higher tax rate, and profit invested in illiquid assets such as factories would face a lower tax rate. This proposal would bring a one-time tax burden for these companies that they could spread over several years.
By proposing a minimum tax instead of a complete tax exemption, the government is trying to protect US tax revenues.
Article continues below advertisement
Impact on US semiconductor companies
US semiconductor companies would stand to benefit, as they have invested most of their overseas earnings in their overseas operations. Qualcomm (QCOM) is using a major portion of its $30 billion overseas cash to acquire Netherlands-based NXP Semiconductors (NXPI). Intel (INTC) used its overseas cash to acquire Israel-based Mobileye.
In January 2017, a rough proposal stated the repatriation tax would be 10%, but the current proposal has not specified the minimum tax rate. If the tax rate is high, it would undermine the benefit of the tax reform on foreign earnings for many companies. The biggest blow would come to the tech industry, which earns most of its profits overseas.
The above framework is a mixture of two major proposals that emerged in 2014 and 2016. However, these proposals were not exactly what large tech companies (QQQ) wanted. We'll look into these proposals in the next part.