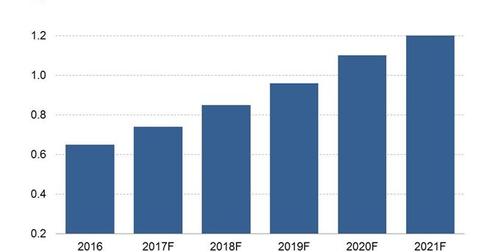 How Newspapers Could Boost Alphabet's Payments Business
By Neha Gupta

Oct. 9 2017, Updated 6:38 a.m. ET
Subscription transaction support
After Alphabet's (GOOGL) Google agreed to drop its contentious "first click free" policy in an attempt to patch up relationships with news publishers, the company also made a commitment to help newspapers increase their digital subscriptions to offset declining advertising sales.
One of the ways Google intends to do this is by enabling its users to use their Google profiles to log in or subscribe to news publications. Alphabet will take a small cut from publishers for subscription transaction support, and this would be a boost to the company's digital payments business.
Article continues below advertisement
US digital payments market expanding at the rate of 12.8%
As Alphabet looks to diversify its revenue streams beyond advertising, digital payments will be one of its options. The rise of e-commerce and the explosion of smartphones are some of the factors fueling the uptake of digital payment services. In the US (SPY), for instance, Statista data shows that the digital payment market will expand at an average rate of 12.8% annually between 2017 and 2021, with digital transaction volumes reaching $1.2 trillion by 2021.
India is another vibrant digital payment market. A study by Boston Consulting Group and Google showed that India's digital transaction volume grew 12% to reach $13.7 billion in 2015. The uptake of digital payments in India has risen since the government's demonetization move last year limited citizens' access to paper currency.
Google enters India's digital payments market
To take advantage of India's booming digital payments market, Google launched its mobile payment service Tez in the country last month. Tez works on smartphones that run Google's Android and on Apple's (AAPL) iOS.
In India, Google's Tez is up for a challenge against the homegrown mobile payment wallet Paytm, which is backed by Sprint (S) parent SoftBank and Alibaba (BABA). Alphabet reported its 3Q17 results in October, and it will be interesting to watch for any comments on Tez.