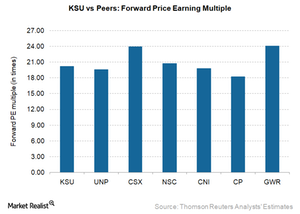 How Kansas City Southern Is Valued among Class I Railroads
By Samuel Prince

Updated
KSU's valuation perspective
Kansas City Southern (KSU) has the strongest advantage among its peers when it comes to its Mexican business. The Mexican growth story will support the upside for the company's valuation in the coming quarters. Recently, Bank of America Merrill Lynch analyst Ken Hoexter upgraded KSU's rating from "neutral" to "buy."
However, we should note the Mexican Federal Competition Commission's view on the Mexican freight rail sector. The Commission believes that Group Mexico SAB and KSU's Mexican arm, KCSM, have been restricting access to their lines and forming a cartel for interconnection prices. The company has filed its response to the initial findings of the commission and is waiting for a ruling.
Article continues below advertisement
Forward PE multiple
In this series, we're using the forward PE (price-to-earnings) multiple to value Kansas City Southern and all the Class I railroads (IYJ). A forward PE ratio implies how many dollars investors are willing to pay today for one dollar of earnings after one year.
Looking at the forward PE multiple for KSU and its peers in the last five years, we can say that KSU has commanded a substantial premium for four years through November 2016. The company has a forward PE multiple of 20.2x and ranks fourth in the peer group. Higher shipments from the implementation of Mexican energy reforms and NAFTA (North American Free Trade Agreement) renegotiations should push KSU's valuation going forward.
Genesee & Wyoming (GWR) tops the peer group with a forward PE multiple of 24.0x. The synergies related to the company's recent two acquisitions have driven the stock's valuation. The company is followed by CSX (CSX), which has a PE ratio of 23.9x. The would-be substantial gains from shifting to the Precision Scheduled railroad model have already been priced at CSX's stock price. However, it also has a high downside risk, unlike the other major railroads except for KSU.
Norfolk Southern (NSC), a major Eastern US railroad, has a ratio of 20.7x and ranks third in the group. Canadian Pacific (CP) has the lowest multiple of 18.2x among the major US railroads. Change in management and a loss of business to arch-rival Canadian National Railway (CNI) have impacted CP's valuation compared to its peers. Union Pacific (UNP) has a forward PE multiple of 19.6x.