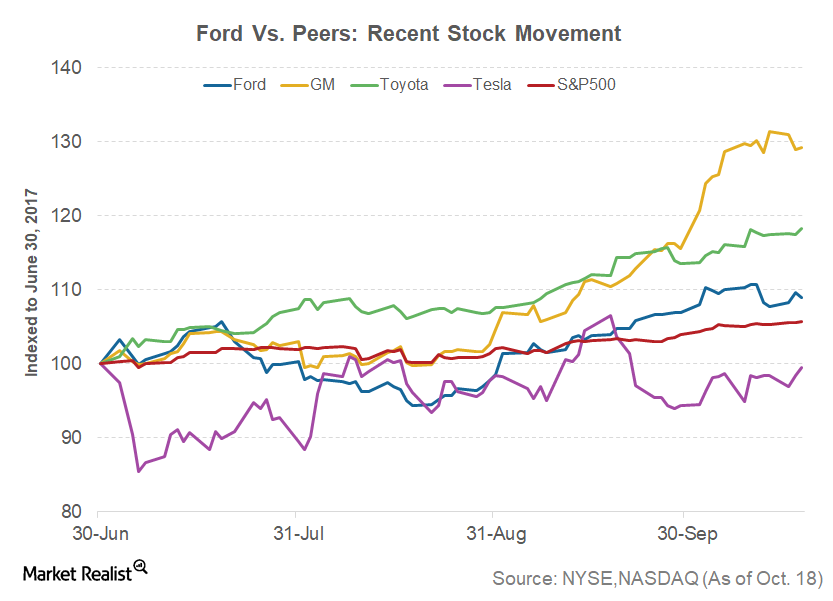 How Is Ford Stock Performing ahead of 3Q17 Earnings?
Ford's 3Q17 report
Ford Motor Company (F) is set to release its 3Q17 earnings report on October 26. Ford is the second-largest US auto company by vehicle sales volume after General Motors (GM). Before we explore what investors should expect from the company's upcoming earnings, let's explore how Ford stock has fared in October so far.
Article continues below advertisement
Ford stock performance in October so far
Since the beginning of fiscal 2017, stocks of mainstream automakers (IYK) faced the heat of softening US auto sales. However, legacy automaker stocks saw a turnaround in September.
The broader market (SPY) began October on a mixed note, and the S&P 500 Index has risen 1.6% as of October 17 on a month-to-date basis. In October so far, Ford has outperformed the broader market just like its peers including GM, Toyota (TM), and Honda (HMC). Ford stock has risen about 2.5% month-to-date. At the same time, the stocks of GM Toyota and Honda have risen 11.5%, 3.5%, and 2.9%, respectively.
Investors' high expectations from Ford's third-quarter earnings could be the key reason for its recent rise on Wall Street.
In this series
In this series, we'll explore Wall Street analysts' consensus estimates for Ford's 3Q17 earnings and possible reasons for analysts' expectations. These estimates will also cover Ford's 3Q revenues and margin estimates and analysts' recommendations for its stock. Later in this series, we'll find out what other key announcements could be expected from the company's upcoming earnings.
In the next article, we'll go through a quick recap of Ford's 2Q17 earnings and then move on to its 3Q17 earnings estimates.