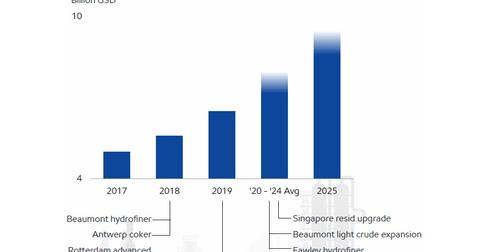 How Is ExxonMobil's Downstream Project Pipeline Shaping Up?
By Maitali Ramkumar

Oct. 11 2020, Updated 10:48 a.m. ET
ExxonMobil's focus on downstream growth
ExxonMobil (XOM) has series of projects in its Downstream and Chemicals segments, which are expected to provide growth to the company. ExxonMobil is expected to spend $9.0 billion in six major refinery projects until 2025.
XOM's technological advantage and shift to higher value refined products are expected to ramp up margins by ~20.0%. The Rotterdam advanced hydrocracker project refinery is a proprietary technology-enabled project, which is expected to double its margin.
Article continues below advertisement
Other projects include its Beaumont hydrofiner, Antwerp coker, Singapore resid upgrade, Beaumont light crude expansion, and Fawley hydrofiner. These projects are aimed at increasing the feedstock flexibility and producing higher-value lighter refined products. Plus, the consistent focus on optimizing its value chain to derive the benefit of every molecule processed could enhance downstream earnings for the company.
XOM's Chemicals segment
In the Chemicals segment, ExxonMobil (XOM) expects to spend $20.0 billion until 2025. XOM expects 13 new facilities to expand the segment. Of these, seven projects are expected to come online by the end of 2018.
Recently, ExxonMobil formed its third joint venture with SABIC to construct a petrochemical complex in Texas. This would include a 1.8-ton ethane cracker, a MEG (or mono-ethylene glycol) unit, and two PE (or polyethylene) units. The project is expected to come online by 2021–2022.
Furthermore, the company has agreed to acquire one of Indonesia's largest motorcycle lubricant manufacturers, PT Federal Karyatama. This acquisition would enable the company to get a strong foothold in a significant international market. Currently, XOM occupies a leading position in the global lubricant market.
Similarly, the acquisition of Jurong Aromatics is anticipated to provide tremendous operational synergies to ExxonMobil. Jurong owned one of the largest aromatics plants in the world. The facility stood quite close to ExxonMobil's existing facility in Singapore. ExxonMobil had an integrated refining-turned-petrochemical complex in Singapore.
In the next part, we'll analyze ExxonMobil's debt position.