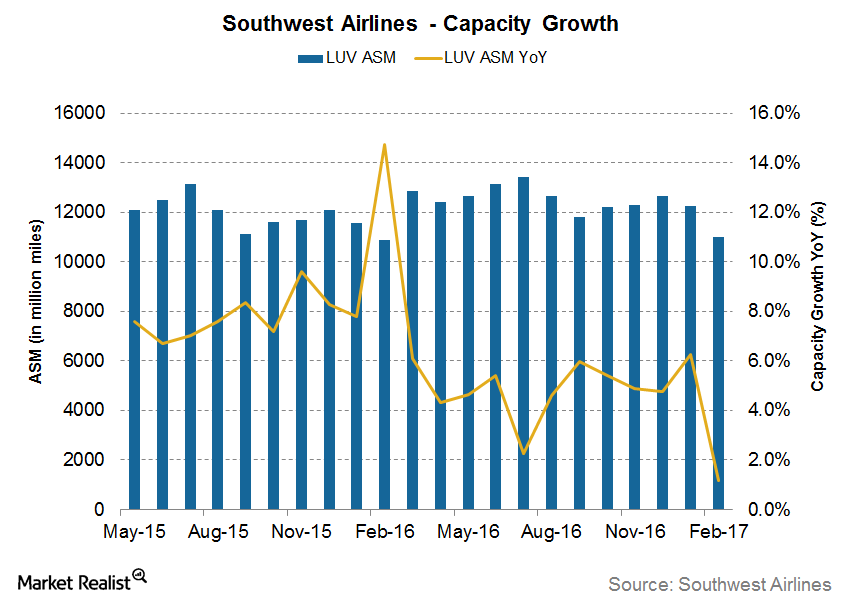 How Investors View Southwest Airlines' Increasing Capacity
Capacity
Southwest Airlines' (LUV) 3Q17 capacity grew 3.1% year-over-year (or YoY) to ~39.1 billion miles. For the first nine months of the year, its capacity grew 4.1% YoY to ~115.9 billion miles. This growth is lower than the 5.7% YoY growth seen in 2016.
Article continues below advertisement
Traffic
In the third quarter of 2017, Southwest Airlines' (LUV) traffic grew 2.5% YoY to ~33.1 billion miles, achieved by carrying 4.0% more passengers than in 3Q16. For the first nine months of the year, traffic grew 3.7% to 96,852 million miles. In both periods, traffic growth lagged Southwest's capacity growth.
Higher capacity growth resulted in lower utilization of existing capacity. The airline's utilization, or load factor, fell more than 0.5% to 84.8% in 3Q17 and 0.4% to 83.5% in the first nine months ending September.
Expectations
Southwest Airlines' (LUV) expects 1.0%–2.0% capacity growth in 4Q17, which could lead to its full-year growth of 3.4% YoY. This full-year growth is in line with the management's 2017 capacity growth target of 3.5% YoY.
For the first half of 2018, LUV's capacity growth is expected to be 3.0%–4.0%, with fiscal 2018 capacity growth not exceeding the 5.7% YoY capacity growth seen in 2016.
Rising capacity across the industry is concerning investors. In the latest industry report, the International Air Transportation Association (or IATA) concluded that industry-wide capacity is growing at a faster pace than demand.
Investors can gain exposure to Southwest Airlines by investing in the PowerShares Dynamic Large Cap Value Portfolio ETF (PWV), which holds 1.5% of its portfolio in the stock. It also holds 1.5% in Delta Air Lines (DAL), but it has no holdings in American Airlines (AAL) or United Continental (UAL).