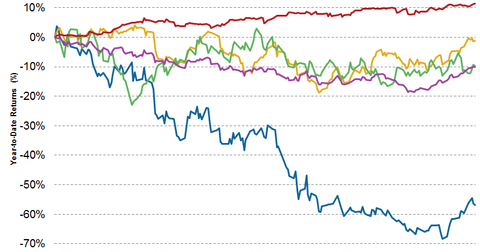 How Improving Crude Oil Prices Could Affect Whiting Petroleum Stock
By Keisha Bandz

Updated
Whiting Petroleum stock
Whiting Petroleum (WLL) stock has maintained the uptrend it started a few weeks ago. The stock has closed higher three weeks in a row.
In the week ended September 29, 2017, WLL stock rose 7%, but on a YTD (year-to-date) basis, WLL stock has fallen ~57%.
WLL has been tracking crude oil prices. In the week ended September 29, 2017, crude oil prices rose 1.9%. Notably, crude oil prices have closed above $50 per barrel every day since September 20, 2017.
Article continues below advertisement
Key steps in the wake of weak crude
Weak crude oil prices had driven WLL to revise its capital expenditure for 2017 from $1.1 billion to $950 million. In August, Whiting sold its Fort Berthold assets in North Dakota in exchange for $500 million in cash and used the money to pay down the majority of its $550-million bank debt.
In September, Whiting announced its decision to implement a reverse stock split of its common stock. The ratio will likely range between one-for-two and one-for-six and will likely be decided in the next board meeting scheduled in 4Q17. After this news, on September 7, the stock fell 6.5%, but since then, the stock has risen 27.5%.
On the operational side, Whiting Petroleum dropped two rigs, one in the Williston Basin and one in the DJ Basin. It will now be running a four-rig program (all in the Williston Basin) through the end of 2017.
What next?
As crude oil makes up a major chunk of WLL's total production, crude oil prices are a major driver of WLL's performance. Crude had accounted for ~67.0% of Whiting's total production in 2Q17, and so the improvement in crude oil prices on a sustained basis could lighten the weight on WLL stock.
Investors will likely be watching for further steps from WLL this year amid improving oil prices.