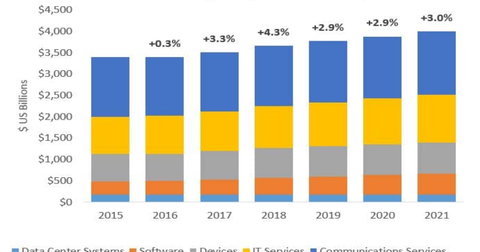 How IBM Stock Compared to the S&P 500
By Anne Shields

Oct. 17 2017, Updated 6:35 a.m. ET
IBM stock versus the S&P 500 versus the Dow Jones
Earlier in this series, we discussed the factors that weighed on IBM stock. If IBM'S (IBM) soon-to-be-announced 3Q17 earnings can beat analyst and market expectations, it could provide a significant boost to its stock.
IBM's cloud offerings' increased traction and their increased contribution to its Strategic Imperatives segment's revenues could encourage its upward stock trajectory.
Let's see how IBM stock has performed in comparison to the S&P 500. In 2017 year-to-date, IBM stock has fallen ~11.7% and significantly underperformed the S&P 500 Index, which rose 13.8%. IBM stock has also underperformed the Dow Jones Industrial Average (DIA), which has risen ~15.2% in 2017 year-to-date.
In comparison, IBM's peers in the software space outperformed the S&P 500 Index. Oracle (ORCL) Adobe (ADBE), and Microsoft (MSFT) rose ~25.9%,~46.3%, and 23%, respectively, in 2017 year-to-date and outperformed the S&P 500 (VOO) average.
Article continues below advertisement
US dollar fluctuations increased global IT spending
Gartner revised its estimate for global dollar-valued IT spending growth to 3.3% in 2017 from the previous 0.9%. This increase resulted from the persistent fall of the US dollar (UUP) against other major currencies in the forecast. In 2Q17, IBM generated more than 52% of its revenues outside the United States (QQQ).
The fall in the dollar is welcome news for the technology industry, as a majority of players in the technology space derive their revenues from outside the US. Microsoft, Oracle, and Symantec (SYMC) are all vulnerable to US dollar movements in this manner.
After hitting a two-and-a-half-year low of 91.4 in the middle of September, the US dollar rose 2.5% on the back of President Trump's tax reform plan proposal. This trend increased the possibility of one more interest rate hike in December.
According to Factset, the dollar was cited by the majority of companies "in the index to date as a factor that either had a negative impact on earnings or revenues in Q2 or is expected to have a negative impact on earnings and revenues in future quarters."