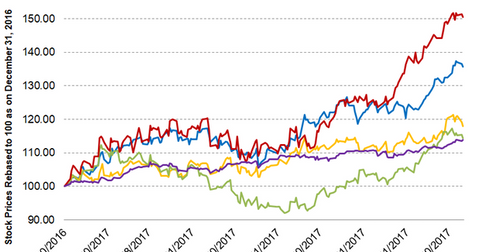 How Celanese Stock Has Performed in 2017
By Peter Neil

Updated
Celanese to declare 3Q17 results
Celanese (CE) will announce its 3Q17 earnings on October 17, 2017, during market hours. It will also hold a conference call to discuss the results at 10:00 AM EST. Mark Rohr, chair and chief executive officer, and Chris Jensen, executive vice president and chief financial officer, will discuss the results on the call.
In this series, we'll analyze CE's stock performance in 2017. We'll assess analysts' earnings and revenue expectations for fiscal 3Q17, analyst recommendations, and CE's latest valuations.
Article continues below advertisement
Stock performance
As of October 10, 2017, Celanese stock has given a strong return of 35.8% so far in 2017, outperforming the broad-based SPDR S&P 500 (SPY), which has returned 13.9%. CE outperformed peers Eastman Chemical (EMN) and LyondellBasell (LYB), which returned 18.0% and 14.3%, respectively. However, CE underperformed Westlake Chemical (WLK), which has returned 50.5% during the same period.
Driving factors
The strong rise in CE stock prices was primarily driven by the following factors:
The company posted two quarters of good earnings that beat analyst estimates. The trend is expected to continue in 3Q17.
CE made an upward revision to the lower end of its adjusted earnings per share for fiscal 2017, which is now expected to grow in the range of 9% to 11% over the previous year. The earlier guidance was 8% to 11%.
The company announced a $1.5 billion new share repurchase program, reflecting the intention to buy back more shares and add value to the remaining shareholders.
A joint venture with Blackstone to become its acetate tow supplier.
Celanese's share in IBN Sina's joint venture is expected to rise 32.5% upon the successful start of commercial production of polyacetal, which will likely benefit CE.
Future growth is expected to be driven by the completion of the acquisitions of NILIT's and SO.F.TER Group's nylon compounding divisions.
All these factors have pushed CE stock up. As a result, the stock is trading 10.6% above the 100-day moving average price of $96.60. However, investors need to be cautious, as CE's relative strength index is at 70, indicating that the stock has moved into the overbought position temporarily.