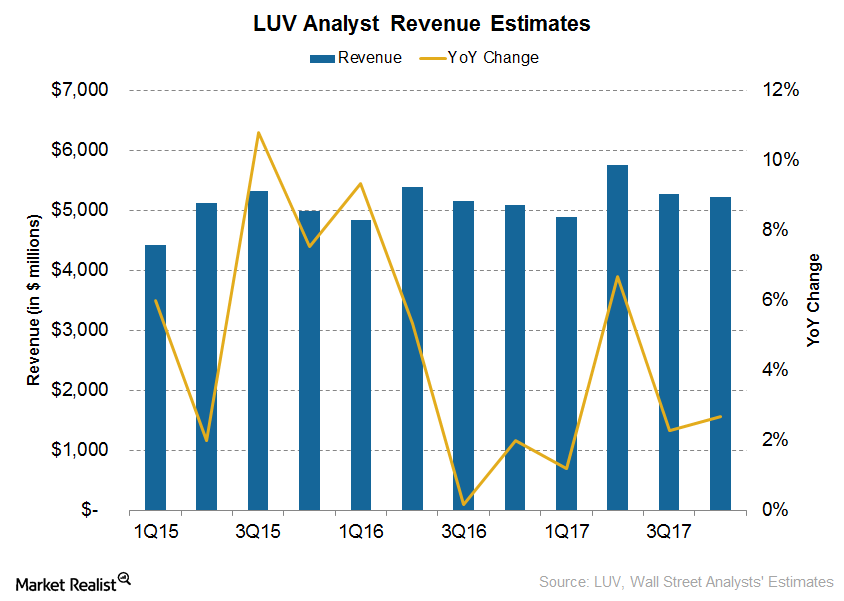 How Analysts View Southwest Airlines in 2017
Analysts' revenue estimates
For Southwest Airlines' (LUV) 4Q17 earnings, the analysts' consensus estimates that its revenues could grow 2.7% year-over-year (or YoY) to $5.2 billion. As a result, LUV could see fiscal 2017 revenue growth of 3.6% YoY to $21.2 billion.
This estimate is lower than the analysts' earlier estimate of 4.6% growth in revenues for 2017. Increased capacity growth and expected growth in unit revenues could help achieve this revenue growth.
For fiscal 2018, LUV's improving unit revenue environment is expected to increase revenue growth to 5.9% YoY to $22.4 billion.
Article continues below advertisement
Analyst earnings estimate
After declining in the past three quarters, analysts expect Southwest Airlines' EBITDA[1. earnings before interest, tax, depreciation, and amortization] to record growth in the fourth quarter of 2017. For 4Q17, its EBITDA is expected to increase 3.9% YoY to $1.2 billion.
LUV's fiscal 2017 EBITDA is expected to fall 8.9% YoY to $4.9 billion.
The margin expansion expected for 2018 (due to no fuel hedging losses) is expected to add to the carrier's profitability. For 2018, its EBITDA is expected to grow 15.2% YoY to $5.7 billion.
The consensus earnings per share (or EPS) is expected to decline 4.1% YoY to $3.60 per share for fiscal 2017. For 2018, EPS is expected to grow 25.6% YoY to $4.50 per share.
Analyst margin estimate
As we discussed previously in this series, rising fuel and increased labor costs are leading to the decline in EBITDA margins. For the fourth quarter of 2017, LUV's EBITDA margin is expected to increase to 22.7% compared to 22.5% in 4Q16.
For fiscal 2017, LUV's EBITDA margins are expected to decline to 23.3% from 26.5% in 2016. For 2018, margins are again expected to expand to 25.3%.
Investors can gain exposure to Southwest Airlines by investing in the PowerShares Dynamic Large Cap Value Portfolio ETF (PWV), which holds 1.5% of its portfolio in the stock. It also holds 1.5% in Delta Air Lines (DAL). PWV has no holdings in American Airlines (AAL) or United Continental (UAL).
Next, we'll look at analysts' recommendations for the stock.