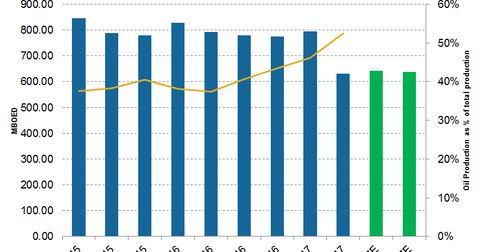 Have Lower Energy Prices Resulted in Lower Production for APC?
By Keisha Bandz

Updated
Anadarko's 2Q17 production
Anadarko Petroleum's (APC) total production in 2Q17 was 631.0 Mboed (thousand barrels of oil equivalent per day). In comparison, APC reported total production of 792.0 Mboed in 2Q16, and in 1Q17, it reported total production of 795 Mboed.
The decline in production levels could have been because of APC's divestitures this year. During 2017 (as per APC's 2Q17 quarterly filing), Anadarko sold assets in the Eagle Ford, Marcellus, Eaglebine, and Utah, receiving net proceeds of $3.5 billion.
Lower energy prices could have also led to a decline in APC's 2Q17 volumes. A decline in commodity prices (USO) (UNG) led to a reduction of proved and probable reserve estimates.
Article continues below advertisement
Oil as a percent of APC's total production
Since 2Q15, oil's share in APC's total production has risen. Note that APC's total production has fallen since 2Q15. Since 2Q15, APC's reported oil volumes of 318 Mbbl/d (thousand barrels per day) have risen to 331 Mbbl/d in 2Q17. In 2Q16, APC's oil volumes were 317 Mbbl/d.
The increase in 2Q17 oil volumes was driven by APC's Delaware Basin operations and its Deepwater Gulf of Mexico operations. Oil volumes in the Delaware Basin rose 52% year-over-year to 33,000 barrels per day. In the Gulf of Mexico, Anadarko's oil volumes averaged 113,000 barrels per day, 102% higher than 2Q16 volumes.
APC's 3Q17 and 2017 production expectations
APC's production guidance range for 3Q17 is 630 Mboed to 652 Mboed or a midpoint of 641 Mboed. Lower 3Q17 production estimates are a result of a decline in APC's planned expenditure. In its 2Q17 earnings, APC had announced that it plans to reduce its 2017 capex by $300 million.
The full-year production guidance range for APC is 633 Mboed to 644 Mboed or a midpoint of 638.5 Mboed.