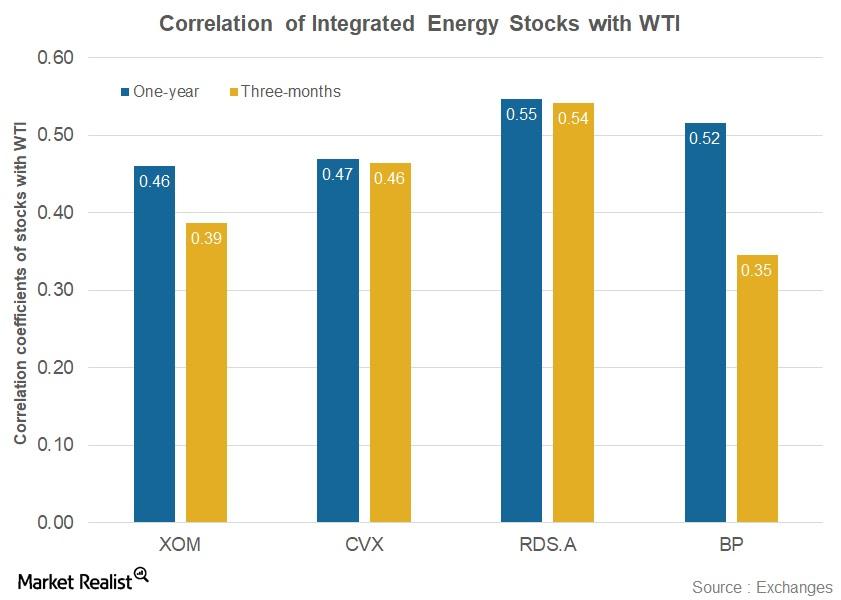 The Correlation of Integrated Energy Stocks with WTI in 3Q17
Correlation of integrated energy stocks with WTI
In this series, we have evaluated news and events that have impacted integrated energy stocks, their stock performances, and moving averages. We also examined the price forecast based on implied volatility, analyst ratings, dividend expectations for 4Q17, valuations, and the PEG ratio.
We have also reviewed short interest movements, changes in institutional holdings, and beta positions. In the previous part, we looked at the historical valuations for our select group of integrated energy stocks.
In this part, we will examine whether there is a rise in the correlation between integrated stock prices and crude oil prices in 3Q17 compared to the past one-year period.
The correlation coefficient assesses the relationship between two variables. A value between 0 and 1 means a positive correlation, a value of 1 means a perfect correlation, and a value between -1 and 0 means a negative correlation.
We have considered the price history for the past three months and past year of integrated energy stocks and WTI (West Texas Intermediate).
Article continues below advertisement
Correlation of integrated energy stocks with WTI
The correlation coefficients of integrated energy stocks ExxonMobil (XOM), Chevron (CVX), Royal Dutch Shell (RDS.A), and BP (BP) with WTI have fallen in the past three months compared to the past one-year period.
BP has seen the highest fall in correlation to 0.35 in the past three months, compared to 0.52 in the past one-year period. As a result, changes in oil prices could explain ~52% of the changes in BP's stock price in the past one-year period. However, its correlation fell to 35% in the past three months, indicating a weakening of this correlation.
Integrated energy companies are affected by both segments—Upstream and Downstream. In the lower oil price scenario, the Downstream segment supports a company's overall earnings. However, in a higher oil price scenario, the Upstream segment contributes a major portion of the overall earnings.
As oil is an essential factor impacting integrated energy companies' earnings, their stock prices show a higher correlation to oil prices.
The correlation of XOM, CVX, and RDS.A fell 0.07, 0.01, and 0.01, respectively, in the past three months. XOM, CVX, and RDS.A's correlations with WTI stood at 0.39, 0.46, and 0.54, respectively, in the past three months.
For more on oil prices, please refer to US Crude Oil Futures Enter Bull Market, SPY Hit New Record.