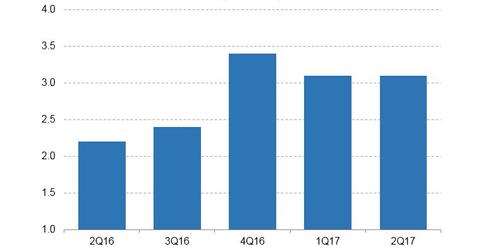 Google Hits a Rough Patch with Pixel 2
By Neha Gupta

Updated
Pixel 2 display quality
A display issue is threatening to mute the Pixel 2 party for Alphabet's (GOOGL) Google. Some owners of the high-end Pixel 2 XL model have complained about the device's display quality, citing problems such as discoloration and screen burn-in, the BBC reported.
Google launched two versions of the flagship Pixel 2 as Pixel 2 and Pixel 2 XL on October 4. The devices went on sale a few weeks later, with the Pixel 2 starting at $649 and the Pixel XL starting at $849 in the US (SPY). The Pixel 2 is the second-generation version of Google's Pixel smartphone lineup, which debuted last year to positive reviews.
Article continues below advertisement
Display burn-in problem normally occurs in old devices
While discoloration is one of the display problems noted in some Pixel 2 XL units, the more serious issue seems to be the screen burn-in problem. Display burn-in describes a situation in which an image lingers on the screen even after it's been powered off.
Screen burn-in is generally associated with old displays. So, when burn-in appears in the high-end Pixel 2 XL, which has been on the market for less than a month, the event raises a lot of questions. Google stated that it was investigating the problem.
Alphabet books Pixel smartphone sales under its Google Other revenues segment. The revenues in this segment increased 42% year-over-year in 2Q17.
OLED screens are giving phone manufacturers a headache
Google chose the advanced OLED screen over the LCD screen for the Pixel 2 XL display. Apple's (AAPL) upcoming flagship iPhone X also uses an OLED display, as do Samsung's (SSNLF) flagship smartphones.
Because the OLED screen technology (QQQ) is more power-efficient and renders a higher-quality display, manufacturers are still struggling to perfect OLED screens for small like smartphones.